The cat healing from burns sustained when her house burned down remains at the hospital but is preparing for the transition to a new life. A big announcement about her future was quietly made last week.
Dutchess was rescued with 2nd and 3rd degree burns from the Saybrook, IL fire of September 19, 2011 that took all of her family's possessions, their home, and the life of the family dog.
Firefighter Toni Day made the rescue when she picked up the burned kitten who was found hiding under a sofa and handed her out through a window, saving her life.
After first being taken to Central Illinois Small Animal Rescue, where she was provided with care, Dutchess was taken to the University of Illinois' Small Animal Clinic where she remains.
Like Bernice before her, Dutchess had an engaging quality about her, and a clear will to live that compelled her rescuer and her doctors to  give her the chance to recover. Dutchess has recovered remarkably well, and will soon be ready to leave the hospital and go home. She will have a surgical procedure to repair her eyelids, which are turned outward and do not currently protect her eyes. After that, she will be well healed and will mostly look the part.
Dutchess' rescuer Toni Day and her partner Christy have demonstrated their love and dedication to her throughout her recovery, have been closely involved in the details of her medical care, and created and maintained the Dutchess Burn Fund Facebook page, which was set up to collect donations but became a place to celebrate her recovery and her winning spirit. The page also shares and lends support for other cats facing challenges.
As Dutchess gets closer to leaving the hospital, a not unexpected but nevertheless important announcement was quietly made at her Facebook page on December 27. She will live with Toni and Christy and will join their family. Jackie Jones, Dutchess' petmom at the time of the fire, will remain in her life and can visit whenever she wishes. Jackie cares for Dutchess but cannot take her, as she begins to rebuilt a life after losing everything in the fire. Dutchess will be safe, well cared for and surrounded by people who love her.
Dutchess will have 2 cats, 2 kittens and 2 dogs as companions, and she will be gradually introduced to them all. The pets have all been introduced to Dutchess' fans at her page.
Also in preparation for going home, Durchess has tried out a luxe car kennel donated to her by Sturdi Products. Dutchess will travel home in the spacious carrier and will use it when she travels back and forth, visiting he hospital for followup care.
We look forward to coming updates as Dutchess goes home, and when she has her eyelid surgery.
For more on Dutchess at our site, cluck HERE.
For photos, videos and updates, visit the Dutchess Burn Fund Facebook page,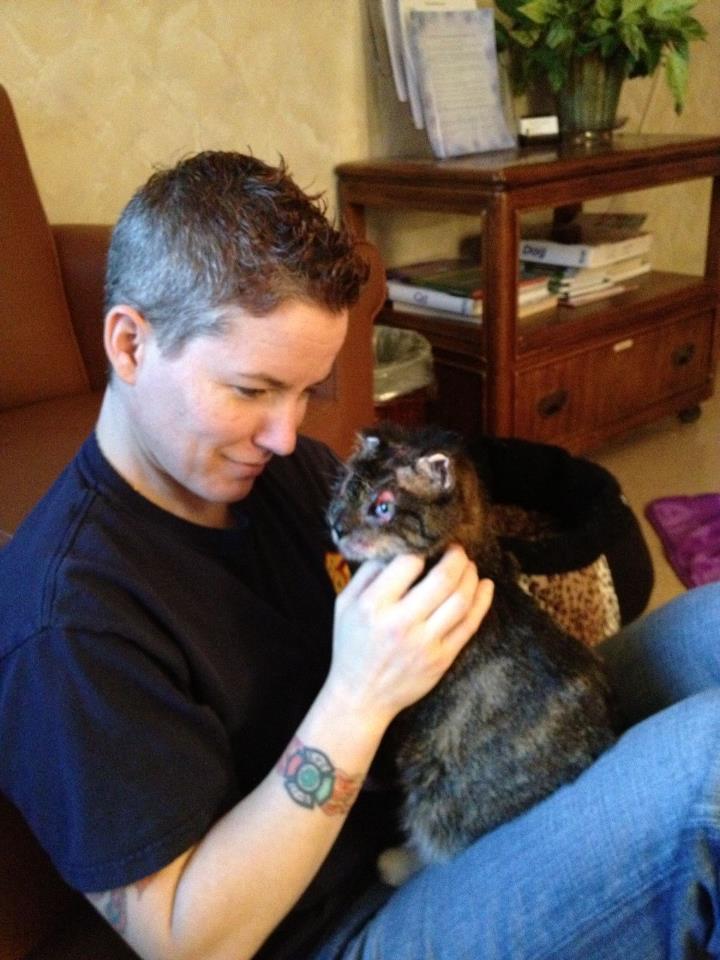 Eating some yummy food sent as a gift during a visit on December 29.
January 1, 2013, trying out the new kennel.