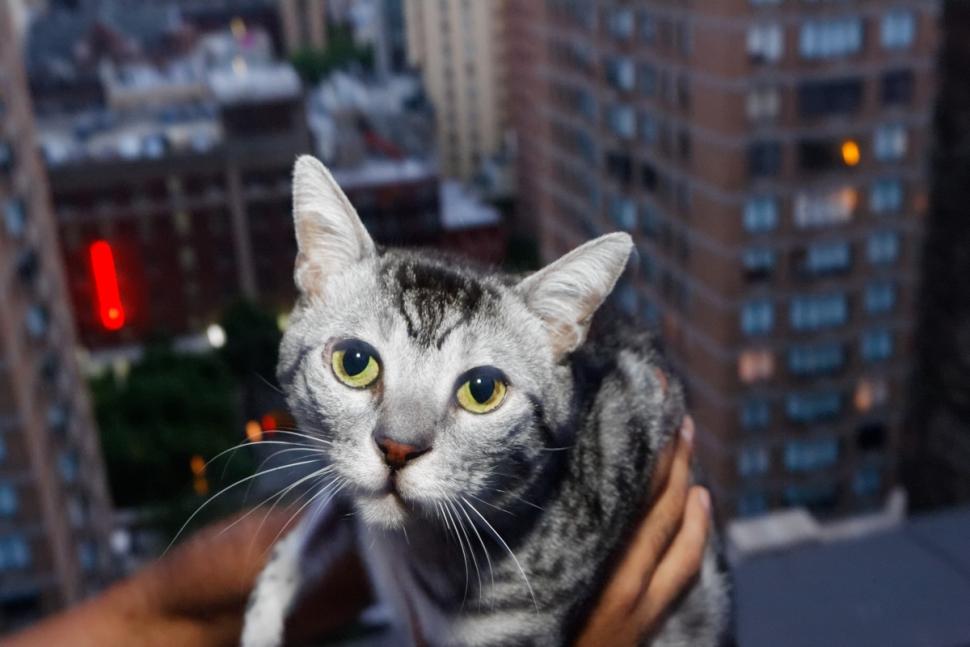 .
A 4 1/2 year old Egyptian Mau cat named Gizmo landed with just scratches and a broken tooth after a 9 story fall from his 12th floor Manhattan residence on Tuesday.
Gizmo is thought to have gone out onto the balcony of his penthouse apartment home on E. 32nd St. near Lexington Ave in Manhattan, climbed its 4 1/2 foot railing, and slipped off, landing on the roof of the third floor, close to a skylight.
Gizmo's owner, Samuel Jacobs searched frantically for his missing cat, then was horrified to discover that he'd fallen.
"I started freaking out," Samuel told 1010 WINS' Glenn Schuck. "I literally saw him and I was like, 'Oh no, no no. He's dead.'"
The building's porter helped Samuel to climb out onto the overhang where Gizmo had landed, and the anxious petparent was met with purrs and cries.
"He looked so relieved to see me," Samuel said. "He was scared and just crying and screaming."
Samuel rushed Gizmo to the vet, where the 11 pound cat was checked out for injuries, and was found to have only sustained some scratches and a broken tooth.
"He's the luckiest cat ever," Jacobs told WCBS 880's Marla Diamond.
The New York Daily News has more on the story, along with photos with Gizmo and Samuel and various views of the apartment building.