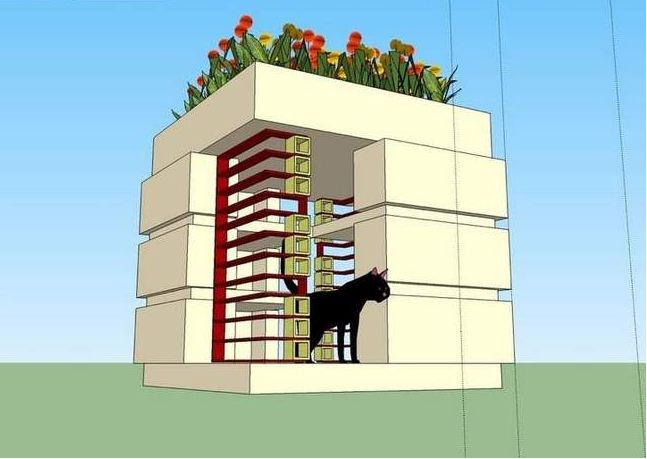 Community cats on the campus of Florida Southern College in Lakeland, FL are not only allowed and welcome; according to a new plan and partnership they will be tended to by a campus sorority and an animal welfare organization, and are getting six little custom designed Frank Lloyd Wright inspired buildings of their own.
Florida Southern College has the largest number of Frank Lloyd Wright buildings on one property, at twelve.  The cats' buildings are being called cat cafes, places where the animals can eat and lounge, as well as take shelter. The FLW inspired cat cafe designs are by Jeff Baker of Mesick Cohen Wilson Baker Architects of Albany, N.Y., a firm that has done renovation work on the Wright buildings on campus. The 5 foot high by 3 foot wide concrete block structures will be built by Rodda Construction Inc.. The cat cafes will be spread across campus, and will be tucked away in sheltered spaces.
The Alpha Chi Omega sorority will provide food and tend to the cats in partnership with SPCA of Florida. The SPCA sees the project as part of its mission to humanely control Polk County's feral cat problem, and will use private funds to spay and neuter the cats and to vaccinate them against rabies and distemper. They will also microchip the cats for identification. The SPCA will also tend to the cats' ongoing medical needs as the colony dwindles.
The cats, which are described as skittish ferals, have been fed and cared for by students in an unorganized manner up until now. The Florida Southern College program could be a model of how to respectfully and humanely manage feral cat populations, and, in this case, do it in an aesthetically pleasing manner.