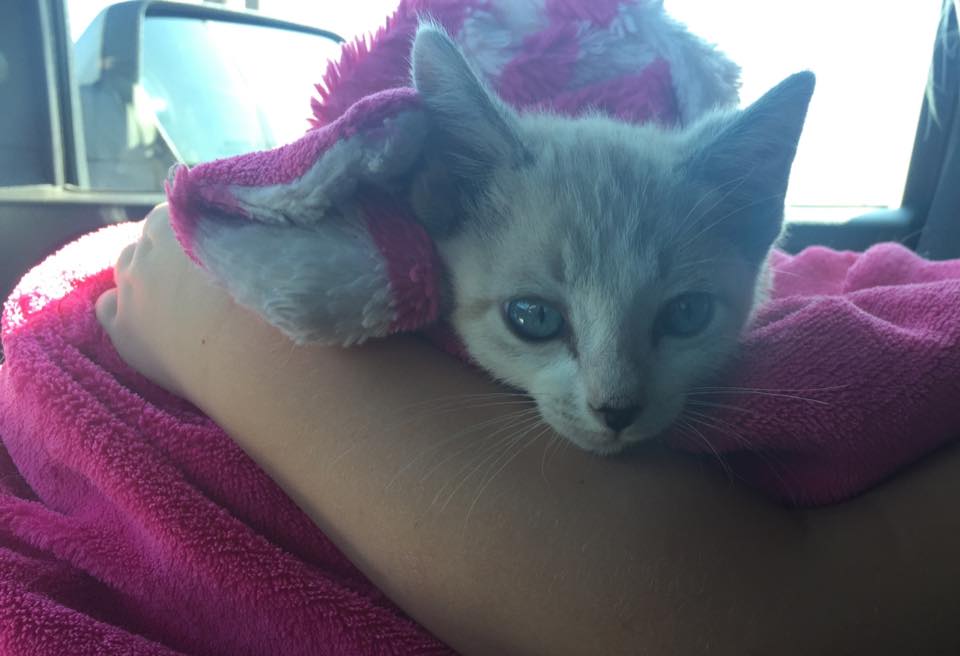 .
A sweet 9 week old kitten who was the victim of abuse when he was forcefully thrown into the air for a video captured on a phone is doing well and, amazingly, came out of his ordeal unharmed.
In the barbaric and shocking video, shot in Odessa, Texas, a young man is seen facing the person holding the phone. He is clutching a wriggling kitten in one hand while holding a beer in the other. He turns and hurls the kitten into the air and across a dirty open lot.
The man, who has been identified Christopher Gonzales, then turns back to the camera and grins. Both he and his cohort laugh hysterically at their bit of disgusting fun.
The kitten is safe and doing well at Mesa Verde Animal Clinic in Midland after the nearly 30 foot throw. Amazingly, while he was covered in grease or oil from the spot where he landed, he came out of the incident unharmed.
Amanda Renfro, a volunteer with Speaking Up for Those Who Can't, an organization devoted to helping local shelter animals find homes, took the kitten to the vet after the video was posted online and an animal control officer went to the scene and found him.
"The community all came together," Renfro said. "We will not stand for this type of violence here or anywhere."
"It was covered in oil from where it was thrown, but other than that it was very lucky."
After police saw the video, Gonzales was arrested and landed behind bars at the Ector County Detention Center, charged with animal cruelty. He also faces a parole violation.
Speaking Up For Those Who Can't will place the kitten with an adopter when he has fully recuperated and is ready.
Speaking Up For Those Who Can't shared kitty's photo to Facebook on July 23, writing: "I'm sure by now many of you have seen the horrible video of this kitten being thrown and left for dead. Thanks to a determined Odessa, Texas animal control officer that saw this video and went and found this kitten, it is safe tonight!! We are so excited that we were able to help him as well. He is at our vet in Midland, Texas (Mesa Verde Vet) tonight and considering all he has suffered he is doing very well. Donations can be called in for him there (1-432-689-0702) under our account Speaking Up For Those Who Can't. He will eventually be up for adoption once we see that he is %100 healthy. Anyone interested in adopting is more than welcome to send us your email address and we can get you an adoption application."
After receiving several offers to adopt the kitten, they added:  "We have been overwhelmed with adoption requests so we would like to remind everyone that there are kittens that are desperate for homes at the shelter every day."
Speaking Up For Those Who Can't is accepting donations to help pay for kitty's veterinary care HERE.
.
.
You can watch the KMID News video on the story, seen below. Please be forewarned, while the video report focuses mostly on the kitten, id does show some disturbing portions of the abuse video.
.
.
About Author