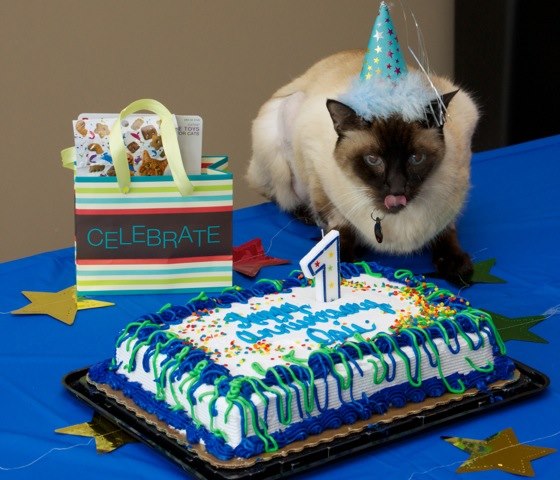 Memphis, TN resident Catherine Addy-Bernstein's then 12 year old Siamese cat Opie was running out of time due to failing kidneys last year when  Dr. Ai Takeuchi, a veterinarian at Memphis Veterinary Specialists suggested a kidney transplant at the University of Pennsylvania School of Veterinary Medicine, where she studied.  Dr. Lillian Aronson, a top veterinary kidney transplant surgeon, and former teacher of Dr. Takeuchi, performed the transplant surgery in September, 2011.
Opie and his donor kitty sibling Carbury were the guests of honor at an anniversary celebration at Memphis Veterinary Specialists on September 13, marking a year since both cats got a renewed chance at life.
The University's veterinary program maintains a policy that owners of pets getting organ transplants are required to adopt the donor animals, who are Philadelphia shelter cats and dogs taken from Death Row. Opie's donor kitty Carbury is now a valued member of the family.
In the year since the transplant surgery, Opie has gone from 6 pounds to a healthy 13 pounds, doubling his weight. He has been healthy since getting the new kidney, and Catherine describes his recovery as "awesome." Opie had lived with kidney disease for 8 years before his condition worsened to the point where the transplant was his only option other than a rapid decline toward death. Opie had to return to Pennsylvania several months ago to have scar tissue removed but his recovery has otherwise been excellent.
Our post from December, 2011, Opie gets a livesaving kidney transplant, donor Carbury gets a family, covered the two lifesaving aspects of the story 3 months after the surgery.
Photos, Memphis Veterinary Specialists at Facebook.