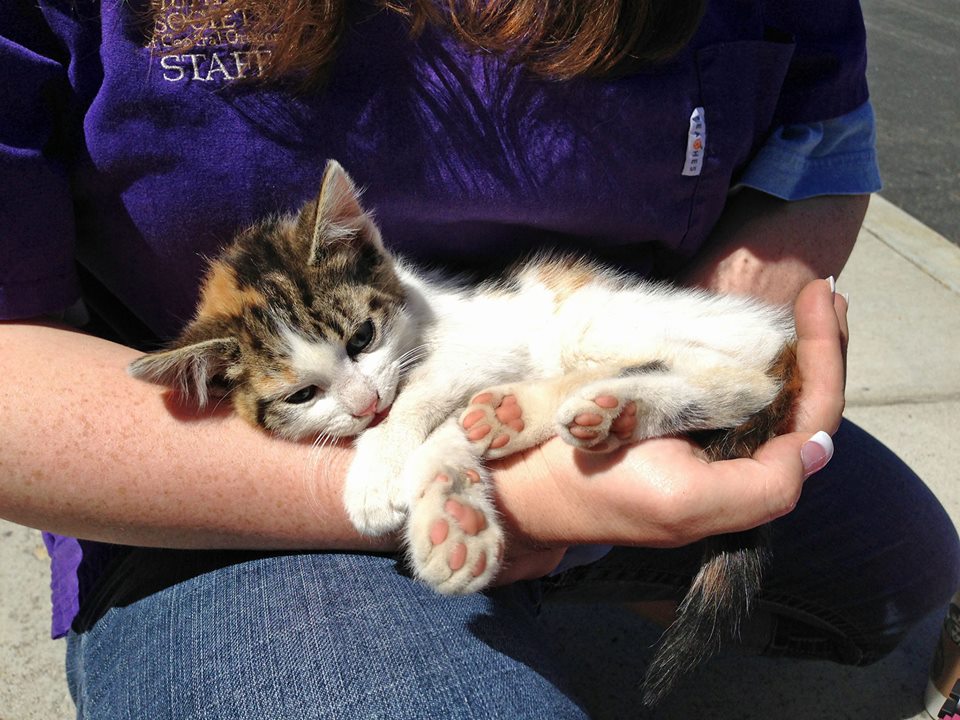 Employees of an RV dealership, local humane society staff and a nearby veterinarian all came to the rescue when a little kitten got stuck in an air conditioning unit, with her little head sticking through a hole upside down.
The 7 to 9 week old presumably feral kitten, who has been named Lennox, got stuck in the small hole beneath an HVAC unit at All Seasons RV & Marine in Bend, OR on Friday. Employees heard her yowling for help and tried to free her but were unable to get her out.
Dealership manager Brian Zinniker called the Humane Society of Central Oregon  and three staffers came out to help.  Community outreach manager Lynne Ouchida, Karen Burns and Juliana Griffith responded to the call. The distressed kitten lashed out at her rescuers with her claws, so they sought the help of a local vet, who supplied a tranquilizer to make the kitten easier to handle and to get through the small opening through which she'd become wedged. Dr. Holly O'Brien at Banfield Pet hospital provided the shot for Lennox.
After Lennox was tranquilized, Humane Society staff used a rope and a golf club to maneuver her through a somewhat larger hole and out of her predicament.
Lennox is recovering from her ordeal at the shelter and she will be made available for adoption. Brian Zinniker made a donation to the Humane Society of Central Oregon in thanks.
Her rescuers think Lennox crawled into the small space beneath the AC unit for safety and then panicked and tried to flee when the unit kicked on, getting her little head stuck for her efforts.
"Hopefully, she learned her lesson: 'If my whiskers don't fit, I don't fit,'" said Karen Burns
The Humane Society of Central Oregon posted a series of very short videos with raw footage from the rescue at Facebook:
Answering a Plea for Help. A 7 week old kitten rescued by Humane Society of Central Oregon.
.
"After being tranquilized, "Lennox" was relaxed enough so we could push her head back through the tiny hole. We secured her to a rope so we could get her out a larger hold at the other end of the base."
.