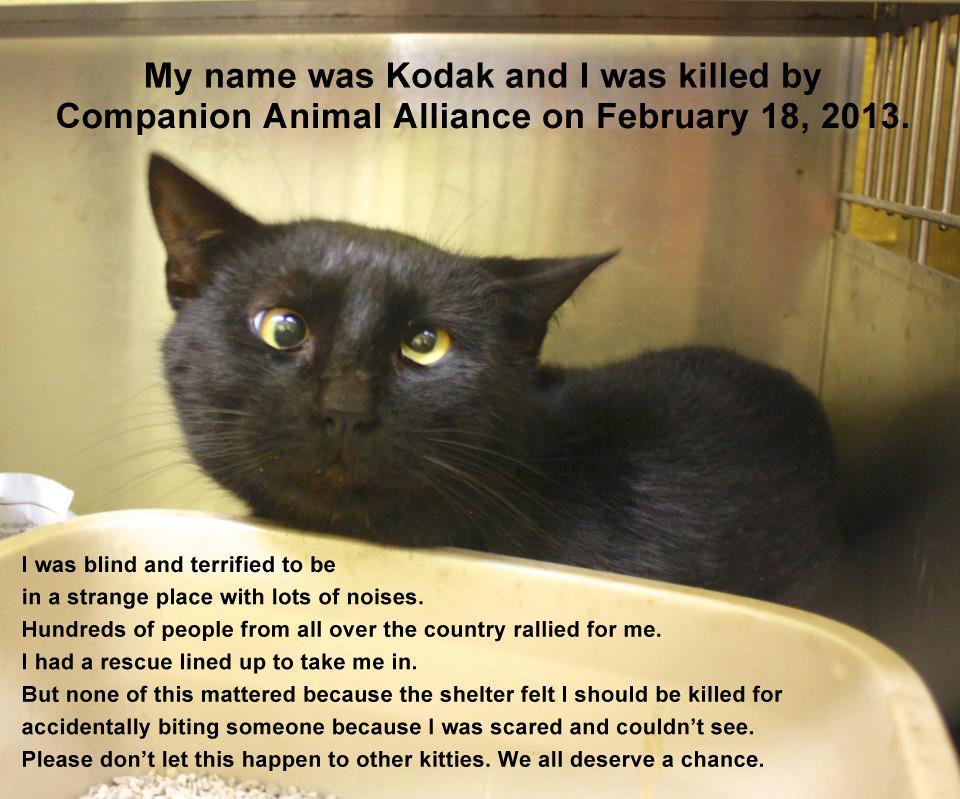 I remember seeing Kodak's photograph at Facebook when he was being networked for rescue in recent days. His sweet face with the odd little expression, due to his blindness, reached out from the screen, touching those who viewed the photo that would mean the difference between life and death as he sat at the shelter in Baton Rouge, Louisiana.
Kodak was in the stray cat room at the shelter run by Companion Animal Alliance, a nonprofit organization that contracts with the Baton Rouge City-Parish to run the city's municipal open admission shelter.
An update to Kodak's networking photo said, "Kodak is a precious feral that is in a shelter in Baton Rouge. He is being pulled under Don't Be Cruel and vetted and is going to be boarded for a little while. We are trying to figure out the best place for him to live out his life. It may just be at the sanctuary. Over 2000 people shared him on Facebook!"
Don't Be Cruel Sanctuary, of Albany, Louisiana, was a key player in the effort to rescue Kodak from the shelter and save his life. They raised money for his care through donations and were set to pull him from the shelter.
Homeless Animal Lifeline, from New Jersey (Facebook page, Homeless Animal Lifeline) , was one of the rescues offering to pull Kodak for rescue, and to act as backup if needed. Kodak was widely shared, widely known, and had a large support network in place to save him. He was safe, and CAA publicly acknowledged that he would be spared and pulled.
Shelter Animal Allies of Louisiana saved a screen shot from last Friday, February 15 where CAA responded to an inquiry on a comment thread at Facebook, confirming that Kodak was safe and would leave the shelter with a rescuer.
Another Facebook screen capture confirms that CAA planned to release Kodak for rescue:
Everything was in place for Kodak, then something went wrong. Despite all arrangements being in place, he was killed by the shelter on Monday, the day he was scheduled for release. That same day, news spread among rescues and their supporters that Kodak had been killed by Companion Animal Alliance before he could be saved. Controversy and criticism also spread, and negative comments on CAA's Facebook page were deleted. CAA has variously cited aggressive behavior and miscommunication to explain Kodak's needless death.
Advocacy blog YesBiscuit! wrote about Kodak's killing yesterday, in Was it in writing? Why yes, it was!.
An In Memory of Kodak Facebook page has been set up "as a place to remember Kodak and discuss ways to make positive changes to the current animal shelter system." The page is the locus of remembrance and discussion in the painful aftermath of Kodak's needless death.
CAA Executive Director Beth Brewster responded to the backlash over Kodak's death at Facebook today, saying:
Thank you for all caring about the animals in our care and especially Kodak. Due to miscommunication that a rescue was indeed coming for him after holding him for 21 days, Kodak was put down. He had become extremely aggressive to staff and was hurting himself in the cage and I made the decision. We are working on structuring our process so that this does not happen again. We have identification cards made for each cat's cage identifying rescue group, person rescuing and date for pick up. We take in over 9000 animals a year and my goal is to save as many as possible. We set up the memorial fund in his name to help other cats in our care and to purchase feral boxes that protect the animal as well as the staff.
Sincerely,
Beth Brewster
Executive Director
A newly uploaded video tells the story of Kodak's death and the resultant controversy:
The video creator writes:
Kodak was a blind cat located at the Companion Animal Alliance shelter in Baton Rouge, LA. Despite having one confirmed rescue organization (and plenty of others on standby) ready and willing to pull him, he was euthanized on February 18, 2013, the day that he was supposed to be pulled from the shelter. The CAA's reasons for doing so have changed constantly in the days since his death, and they have been doing everything in their power to make this go away, including deleting Facebook posts they had made confirming that Kodak had, indeed, been claimed by another rescue organization. We are not going to let this go away, and I hope this video helps serve that purpose – please share Kodak's story!
Contact Companion Animal Alliance
.