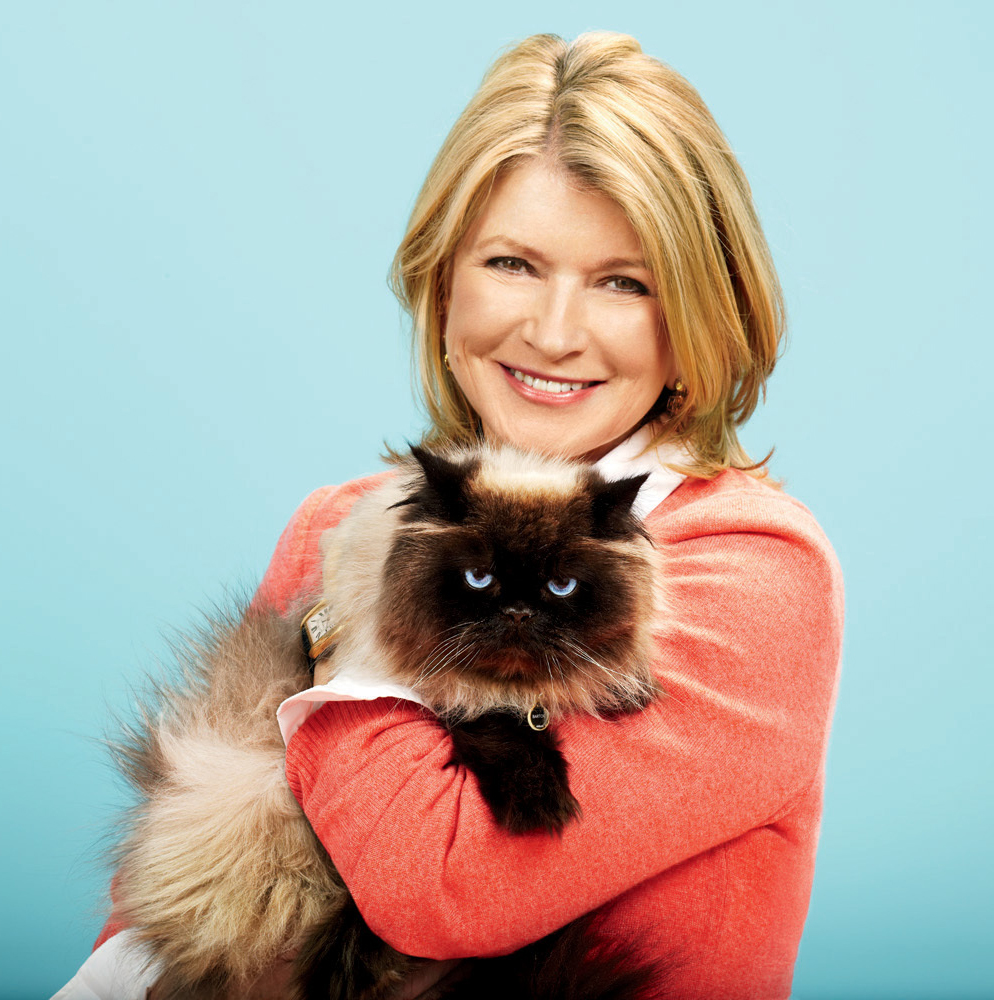 One lucky reader will win a nifty cat feeding station from the Martha Stewart Pets line for PetSmart. The set consists of a melamine plastic double feeder with removable stainless bowls, two silicone bowl covers/slip guards, and a ridge edged silicone mat of good weight and thickness.
We received our trial set about a month ago and decided to give it the test of time before telling you what we thought of it. The set came beautifully packaged, which made us think "gift", and, as we would expect from a Martha Stewart product, both the packaging and set are very pleasing to the eye.
As you can see from the photos here, the set is well-designed and attractive. We can tell you from our month of use that it cleans well and retains its fresh look. The mat still looks great after having scattered kibble, everyday dust and dirt, and pawprints on it. Our two pics of Lucy in action at the feeding station were taken today.
Our product tester
Lucy, our product tester, previously had a habit of pushing her bowl out from its spot under the produce cart into the middle of the floor to drop a no-so-subtle hint that sh'd like fresh food, please. Now, thanks to the silicon mat and little silicone slip guards (that beautifully double as bowl covers) everything stays in place. Lucy now has to sit in the middle of the floor and stare her message.
Beautiful though she is, Lucy is kind of a food slob … she gets it everywhere. Thanks to the edged mat, food spills stay contained on the feeding station, and not on the floor.
After a month of use and washing the set looks as good as new. The silicone mat cleans up beautifully with hand washing, as do the stainless bowls and melamine feeder base.
The color is a beautiful robin's egg blue. For true color see the product pic from Marta Stewart Pets, below. The set is also available in white or pink. It is our understanding that the giveaway set will be in robin's egg blue.
Bowl capacity is about 1/2 cup each.
Product details for feeder:
Durable, lightweight, easy to clean
Rust-proof, stainless steel
Silicone ring under rim reduces noise
Liquids stay cooler longer
Non-skid bottom
Rubber base prevents marking of floors
Shaped hand-grip makes bowl easier to move with less spills
Silicone mat measures 10″ x 14″
Product Content: Melamine, Silicone, Stainless Steel.
Do not microwave.
Retail value of the feeder set is $15.99 or more, depending on whether purchase is made from the PetSmart website or one of their stores, and whether the shopper has a PetSmart card. The mat is priced separately.  The mat is not currently available for purchase, but will be included in this goveaway.
Now for the reader giveaway!
We are accepting entries from now through Monday, October 17, at midnight PDT. One entry per household accepted.
To enter, click here at CONTACT US, or use the Contact/PR button at the top of this page, to send us a message. Put ENTER ME in the subject line, and include your name and email address. Our winner will be selected at random on Tuesday, October 18, and will be notified that day.
Good luck to those who enter.
About Author