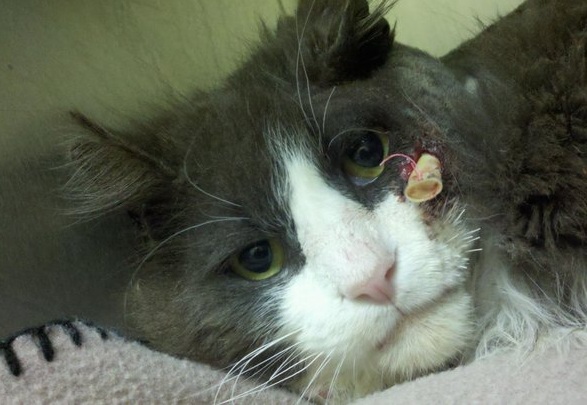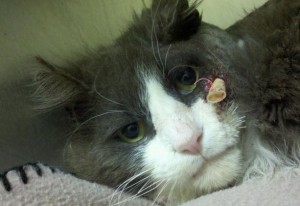 Bow, the Grand Rapids Michigan cat found pierced by an arrow on Tuesday, May 10, is recovering nicely, and the doctor overseeing his care has announced a reward for information leading to the arrest of the person who shot him.
Bow, the cat found shot by an arrow from our story Arrow Pierces Cat: Justice For Bow, is recovering very satisfactorily at the Lowell Animal Hospital . The arrow ran through his face below the eye but did not impact any organs or do any great damage; the object we see see on Bow's face in the photo above is a post-operative drain tube. The major concern for Bow's recovery after the arrow's removal was the possibility of infection, but Bow's doctor Bruce Langlois says the former stray cat is progressing nicely and his outcome looks good.
As we reported in the earlier feature, Bow was turned over to Carol Manos of Carol's Ferals after he was brought initially to Michigan Veterinary Specialists, and then was removed to Lowell Animal Hospital for further care and recovery. He is expected to move to the Carol's Ferals facility after he is healed, and will likely be made available for adoption to a good home.
Dr. Langlois, who has provided the public with updates on Bow's condition, announced this weekend that he is offering a $500 reward for information leading to the arrest of Bow's assailant.
We are very glad that bow is recovering so quickly and so well, and are pleased to see Dr. Langlois' reward offer. Hopefully the offer will help drive home the point that crimes against animals are real crimes deserving of serious consequences and community disapproval.
(For a further update, please see Reward Rises in Case Of Bow: Cat Shot By Arrow)
A brief video update and reward announcement, Sunday May 15.
An update on Bow's recovery.
The Justice For Bow Facebook support page founded to honor him continues to gather supporters follow his progress. They published a note today from David Sheets, the man whose family found Bow and rushed him into care. Mr. Sheets notes that he and his family knew Bow for quite some time and had provided food for the stray as he made his neighborhood rounds. Mr. Sheets says he will miss little Bow but wishes him well as he begins a new life.
Out story photo is from the picture album at Justice for Bow.
A representative from Justice For Bow visits him at the Lowell Animal Hopital. The video is not the best quality but shows Bow receiving a gentle touch and show of support from a friend.
Little Bow has brought many people together to care for one stray cat who met with a horrible incident; hopefully he will live out his days in a safe and comfortable manner, with someone always there to provide for his care.