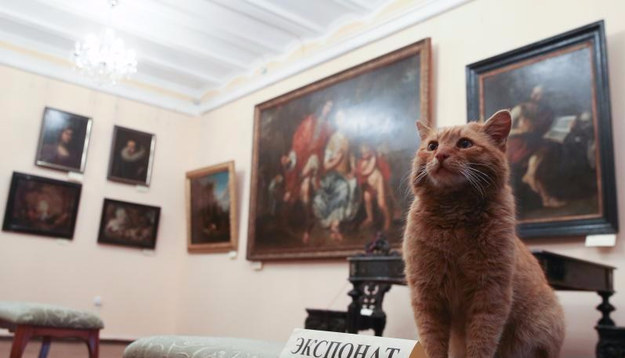 The Serpukhov Museum of History and Art, located in Serpukhov, Russia, may just be the first museum to ever hire a cat. And it's all due to an April Fool's joke which turned into a reality.
Maray, a stray orange tabby, started to spend time at the museum in 2014. As the cat spent more and more time at the museum, staff decided to take him in. Maray served as the museum's unofficial greeter.
As April first came around, museum staff decided to play an April Fool's joke involving Maray. They wrote an application letter from Maray, and even sent out a press release to local papers announcing Maray's hiring. Problem was, the joke was lost on the press, and reporters even contacted the museum to find out more about Maray's position.
Luckily for Maray, the museum decided to give him an official position as a doorman. The newly employed cat greets guests and has a daily 9 to 5 schedule. He's highly popular with guests, who bring him food and take pictures with him.
Perhaps this is the beginning of a trend. Might other cats start seeking official employment?
About Author