Sponge Bob weighed in at a very hefty 33 pounds when he came to Animal Haven in Lower Manhattan in April. He has dropped 3 pounds and is getting moving with moderate exercise.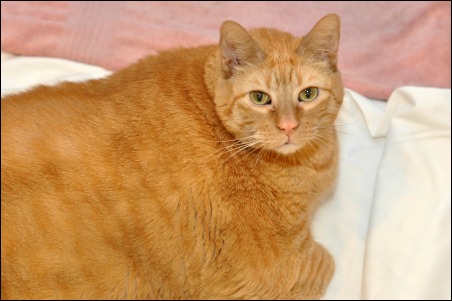 Sponge Bob is a 9 year old male orange tabby cat. His adoption listing reads:
Hi there! My name is Sponge Bob and I am Animal Haven's biggest cat to date – a whopping 33 pounds! The day I came into the shelter, a group of people just stood around staring at me in complete disbelief. Obviously I need to lose some weight for health reasons and the staff have been trying to give me at least one exercise session per day. I love laser lights and will always get up and move for a (very small!) treat.
I am exceptionally sweet and LOVE kids! In addition to eating and sleeping, my favorite activities are being brushed, sun bathing and people-watching.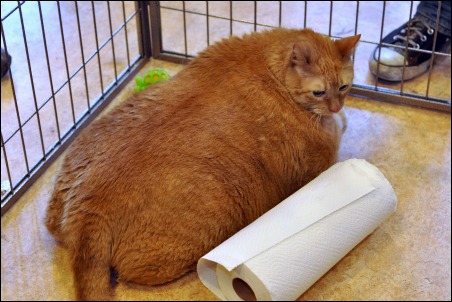 Sponge Bob is a very sweet boy whose gargantuan size has impacted his quality of life. In the several weeks he's been in the care of Animal Haven, he's gotten plenty of attention along with the help he needed to begin to lead a more normal life. Bob has lost weight at a rate that's safe for his system and helps him not to feel deprived. His activity sessions get him moving while he enjoys attention from staff and volunteers.
Video with Sponge Bob from Animal Haven, made in April.

Animal lover Suzan4B has chronicled Sponge Bob's progress at her YouTube channel, where she posts many rescued cats looking for homes. The following three videos are hers.
Overweight Cat Exercise Program, from April 12.

.
33 Pounds Of Cat-Bob's Exercise Time: "Sponge Bob is a lovable 33 pound Tangerine Tabby that is up for adoption at the shelter. Today I opened up a large play gate and took him out of his pen for more room to move and explore. These are a few pieces of his time that I put together to show Bob's progress in mobility. Diet+Exercise + TLC=1 Happy,Healthy Bob!"

.
Suzan posted Sponge Bob's newest video today, saying, "Sponge Bob Was 33 pounds when he first came to Animal Haven Shelter in NYC. Since his arrival,he has been put on a program of diet,exercise and extra portions of love. He has since then lost 3 pounds! He's able to move a lot more comfortably and shows it in leaps and bounds! Bob's on the road to success." Watch him making little jumps when asked, and walking a bit. There's a big change in his mobility.
Sponge Bob Has Lost 3 Pounds!

As noted above, Sponge Bob is available for adoption. Animal Haven's main location is in Lower Manhattan, in NYC. They serve the Tri-State are and travel to adoption events and opportunities with their Mobile Adoption Van. Information about Animal Haven can be found at their website and at Facebook.