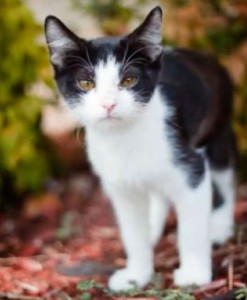 "Special needs, abused and abandoned kitties are amazing, and they need loving homes just as much as "normal" cats do," says rescuer Sherry Pfau.
Sherry founded Wayward Whiskers Cat Rescue, based in San Antonio, Texas in December 2012, to save the less desirable, injured, and sick cats and kittens of the city and give them a chance to recover and go to loving homes. Wayward Whiskers is the only "cats only" rescue in San Antonio.

The rescue has evolved to focus on special needs cats, and Sherry's video Be Their Light highlights some of the special cats helped by Wayward Whiskers.
Many Life With Cats readers were deeply touched by Sherry's guest post at our site earlier this year, Are These Cats Worth Saving?
You can visit, like and follow Wayward Whiskers Cat Rescue at Facebook.
Song credit: Ships by The Umbrellas
Photo credit: Finding Furever Photography
.
Magic Mike – whose story is found in the two posts below –  was helped by Wayward whiskers. He is now healed and is happy in his new home.