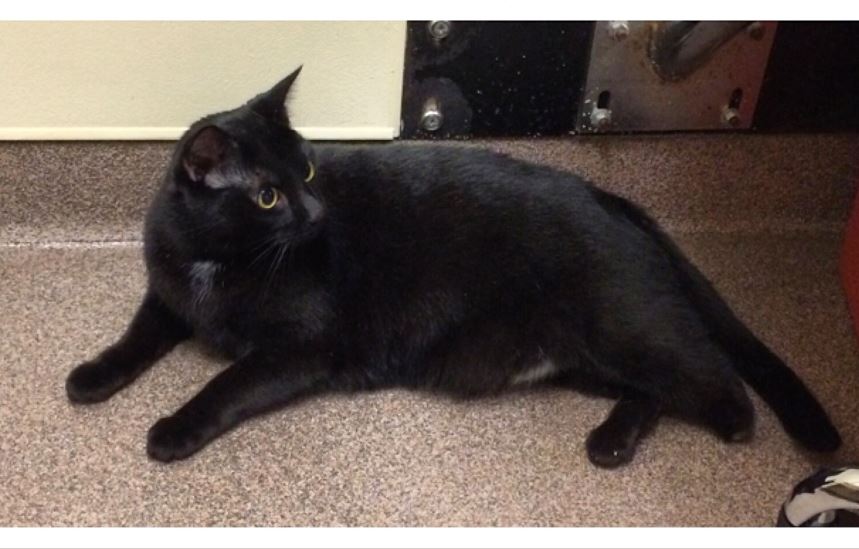 .
Shelly, a 3-year-old cat in the care of Black Cat Rescue, a no-kill cat rescue in the Jamaica Plain section of Boston, Massachusetts, was born without a back paw. She gets around pretty well, but she hobbles a little and is at risk for arthritis and other long-term joint damage. With the help of Dr. William Snell of BluePearl Veterinary Partners hospital in Waltham, she will be fitted for a new prosthetic leg.
Shelley needs two things to make her life complete:  A forever home and a new back paw.
Volunteers from Black Cat Rescue are working on finding the beautiful girl a home, while a doctor from BluePearl Veterinary Partners is taking care of fitting her with a prosthetic leg.
Shelley was born without her left hind paw. She gets around relatively well without it, but she is at risk for developing sores, arthritis or other long-term joint problems. While other veterinarians consulted by Black Cat Rescue recommended amputation, Dr. William Snell, a surgeon with BluePearl's Waltham hospital, opted to go a different route.
"She's a good candidate for a prosthetic leg because she's young and healthy," said Snell. "I'd really like to give her the opportunity to run and jump better."
Snell performed X-rays, measured Shelley's leg and created a fiberglass impression, the first steps in her journey toward a new paw. A custom-ordered temporary prosthetic leg, called a house slipper, should arrive in about two weeks. If she takes well to the slipper, she'll get a permanent prosthesis.
Susanna Finn, an adoption counselor with Black Cat Rescue and Shelley's foster mom, said the cat was surrendered to Black Cat Rescue because her owner, an elderly woman, was moving to Florida and could no longer keep her. Finn said Shelley is extremely playful and affectionate, if a little on the pudgy side.
"She's a terrific cat who loves snuggling and being around people," Finn said. "We want to do everything we can to improve her quality of life. She's going to be a wonderful pet for a lucky person."
Finn estimates the cost of care, including the prosthesis, will be about $3,000. Those interested in contributing to Shelley's treatment or learning more about adopting her are encouraged to contact Black Cat Rescue.
.
Watch the video of Shelley walking on her stump:
Shelley's Story… from her adoption profile:
Shelley is a young, friendly cat looking for a forever home!
Shelley and her big belly are looking for a new home!
Shelley is a lovable 3 year old cat who came to Black Cat Rescue when her owners had to give her up. She is friendly and absolutely loves affection, she'll bump you until you've surrendered to her cuddles! Shelley is playful and curious, you won't be able to resist her charm.
You may notice something special about Shelley– she's missing part of her back leg! Shelley was born this way and it doesn't seem to bother her at all, we don't even think she's noticed she's a bit different than most cats! Shelley has no known health problems, but she will need her diet and exercise monitored because she is obese. Otherwise, Shelley is up-to-date on her vaccines, spayed, and good to go to her forever family. Her foster home has existing cats and Shelley seems to appreciate the company.
<via>
About Author