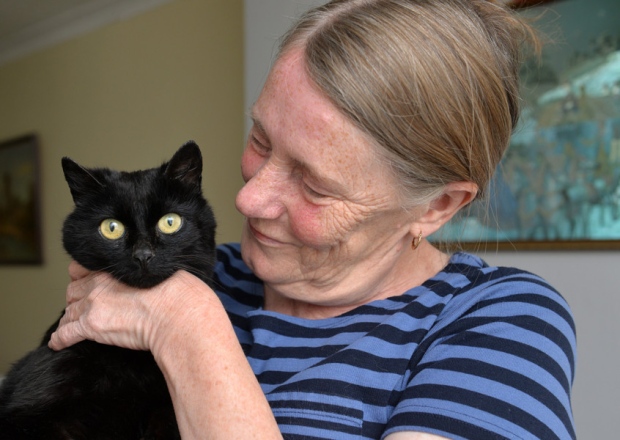 Freya is back home with her loving petmom again seven years after she disappeared, thanks to a shelter's TNR program and her microchip.
Freya's happy reunion with Jan Cheeseman of  Shirebrook, Derbyshire, UK  took place in recent days after the long-missing cat was found living with a feral colony 24 miles from her home.
Rain Rescue brought the reunion about after Freya was trapped  through the South Yorkshire organization's Operation Feral program. She had been missing since 2008.
Rain Rescue cat co-ordinator Sue Utley told the Star: "We contacted the owner on Friday when we trapped Freya but there was no-one in.
"We were all waiting with our fingers crossed that she hadn't moved and would call us back. Luckily she was in the same place.
"We arranged for a volunteer and volunteer driver to take Freya back to be reunited with her owner. She already has four more cats but was desperate to see her.
"We will never know how she got to Sheffield, but cats are notoriously curious, and so often end up hitching a ride in cars lorries and vans.
"She may have been taken in by someone.
"We believe Freya joined a small feral group but never became feral, although she has picked up some pretty good tips on hiding food.
"In the wild, any food you can't eat has to be hidden from other hungry mouths. Freya remembers this, so what she wasn't eating at her temporary lodgings, she was hiding beneath newspaper.
"What we are trying to get across is that microchipping does work as long as the details are kept up to date."
You can see a short video with Freya and Jan Cheeseman at the Star article we linked to above.
Freya and Jan's reunion is the second such homecoming Rain Rescue has made happen in less than a month.
In our post of July 22, TNR program reunites owner with cat missing for 2 years, we shared the story of Roxie's homecoming. Roxie is a very loving cat who'd been missing from her Manor Park, Sheffield, UK home for two years until, like Freya, she was trapped through Rain Rescue's Operation Feral program. It was clear to staffers that Roxie had once been someone's pet, and their routine microchip scan found the chip that helped them send her back home to her petmom, Tracey Hartley. Tracy came to collect her beloved cat the same day she was contacted with the unexpectedly welcome news that Roxie had at long last been found.
The Star covered both reunion stories and reminded readers that Rain Rescue relies on donations from the public in order to continue their work.