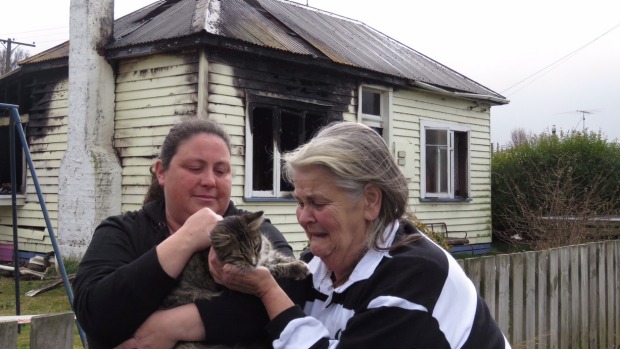 .
A woman who barely escaped the fire that destroyed her home was overcome with emotion when her young cat turned up alive out in the yard.
Barbara Macnee thought her  6 month old kitten Buddy perished in the fire that destroyed her home early Saturday morning and was brought to tears when he was later found alive.
Macnee, from Milton, South Otego, New Zealand, was reunited with Buddy when she heard meowing outside the remains of the house she had rented. She then glimpsed Buddy's fluffy tail and knew he was alive.
"Oh Buddy, my Buddy, you beautiful wee thing," the emotional petmom cooed to her furry boy.
Buddy and another cat survived the fire, but three other cats are thought not to have made it out alive. The house is cordoned off, so a search for their remains is not possible at the moment.
"I just hope they didn't suffer," Macnee said.
The other cat who survived, Patches, is said to be in hiding on the property and is being given food until he is ready to emerge.
Macnee, her daughter and her three young grandchildren got out of the house with no time to spare when a 4-year old grandson woke his mother by shouting "fire."
The house was destroyed in minutes, with the family standing outside in their pajamas.
<via>