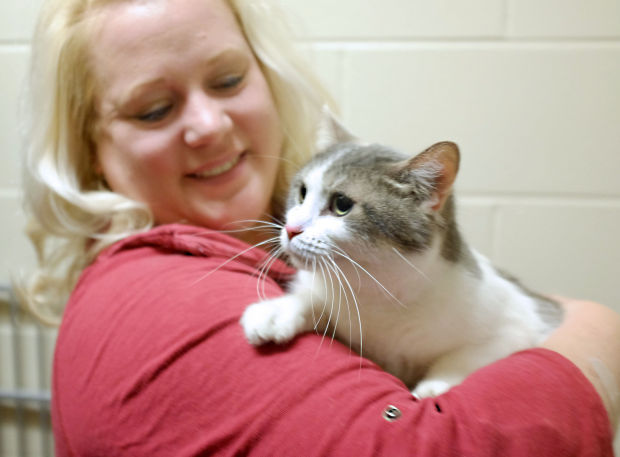 .
A pair of good Samaritans were in the right place at the right time to rescue a cat who'd been zipped into a duffel bag and tossed into a river.
A Mason City, Iowa couple who saw a man throw a bag into the Winnebago River in Mason City on Saturday retrieved the bag and found the cat.
"The witness was suspicious, "so he checked on the bag and there was a cat inside it — a live cat," said Mason City Police Sgt. Greg Scott.
Police are investigating and have asked for the public's help in finding the man who tried to drown the cat, who is being called Winne.
Winne was taken to animal control and will be placed in the care of the Humane Society of North Iowa. If her owner does not come forward, assuming they are not involved in the attempted drowning, Winne will be made available for adoption to someone who will give her a forever home where she will never be mistreated again.
Humane Society of North Iowa executive director Sybil Soukup said Winne acts a bit timid, but that might be as a result of her ordeal or the stressful atmosphere at the shelter.
"It's just a shock that anyone would dispose of an animal in this method," Ms. Soukup said. "Zipped her up in a duffel bag and threw her into the freezing cold waters of the Winnebago River. That is a certain death that is cruel and painful."
"Fortunately, curiosity saved the cat when the couple that saw it happen went over and fished it out of the water," she said.
Watch as Humane Society of North Iowa executive director Sybil Soukup cuddles Winne and talks about the incident and the rescued cat's future: