We have already shared profiles on some of Cats Protection UK's 2012 award winning cats: Best friends and overall winner, Jessi Cat; Hero Cat winner, Charley; and Outstanding Rescue Cat winner, Phoenix. Simon's Cat won for Celebrity Cat and William, profiled here, won for Most Incredible story. The awards were made last week.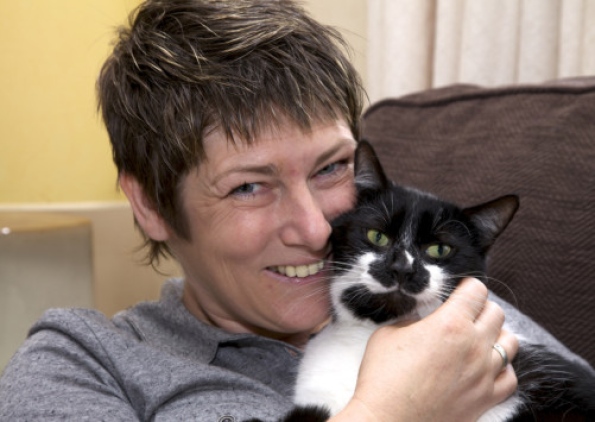 Chorley puss William scoops Cats Protection UK Most Incredible Story Award
A brave puss who embarked on a gruelling journey home with horrific injuries has won the Most Incredible Story title at Cats Protection's prestigious National Cat Awards 2012.
Black-and-white William was honoured at a star-studded ceremony on Thursday 16 August after surviving a brutal dog attack and embarking on an agonising half-mile journey home using just his front legs.
The four-year-old rescue cat was one of 15 fabulous felines to make the finals at London's Savoy hotel and was chosen as the winner of the Most Incredible Story category by celebrity judge and comedian Ed Byrne.
Cats Protection's National Cat Awards, sponsored by www.verdocatlitter.co.uk, is the UK's largest celebration of real-life stories of companionship, bravery and survival in the cat world.
Cat lover Ed Byrne was at the awards ceremony to announce William as the winner and present owner Debra Terry, 46, with William's prizes – a trophy, three months' supply of cat food, a year's supply of Verdo Cat Litter and a framed photograph of William.
He said: "I picked William because of his sheer tenacity – William's refusal to give up on his life is the thing I find most incredible."
William's road to stardom began after he suffered horrific injuries in a brutal dog attack earlier this year.
With both his back legs severely damaged – one broken in two places – the plucky puss managed to drag himself half-a-mile home before collapsing on his doorstep.
Having been rushed to a vet, his condition was critical for 24 hours and one of his back legs had to be amputated. Amazingly, he beat the odds to make a full recovery and is now adapting well to life on three legs.
Debra, of Cliffe Drive, said: "When I first saw the state William was in I was terrified, I really thought we would lose him, I thought he was going to die. He was in such a mess and the vets said they had never seen such a bad case.
"He knew if he got home we would be able to do something for him. He was so determined to get home, it was amazing."
Having won his category, William narrowly missed out on scooping the overall title of National Cat of the Year – an honour that instead went to Manchester puss Jessi-Cat who provides invaluable support to a seven-year-old boy with an anxiety disorder.
Kate Bunting, the Awards organiser at Cats Protection, said William's story was an inspiring one.
She said: "Having suffered the most horrific attack and sustained such life-threatening injuries, no-one would have expected William to even get home, let alone make such a great recovery.
"His determination, strength of character and refusal to give in make him a truly special cat and we're thrilled to have been able to share his story."
<via>  Photo – William and Debra by Paul Maven Photography