Wilana Frazier appeared at yet another pretrial hearing on Friday. The judge was visibly displeased with her and told her she would go to trial in April or May for the brutal killing of kittens Dexter and Drake.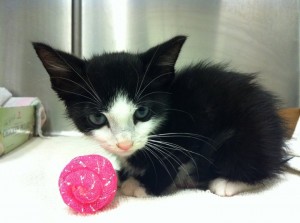 Court spectators sat through a number of disturbing cases before Wilana Frazier's latest pretrial hearing in her animal abuse and child endangerment case came up on Friday in Hernando County, Florida.
Various eyewitness reports all told the same story. Shortly before noon, the Frazier case was called and both sides were called to the bench for a muted conversation with the judge. The judge was visibly displeased with the defendant, whose latest move has been to say she wants to release her public defender and hire a private attorney. The judge told her that, even if she follows through with the change, she and her attorney should be prepared for trial sometime in April or May. There will be yet another status check on a month. It was noted that the prosecution will conduct another deposition before the trial.
Spectators in attendance to show support for brutalized kittens Dexter and Drake were
buoyed by the judge's demeanor, which reportedly included pointed facial expressions and flailing arms directed at defendant Wilana Frazier.
Of the several court appearance over the course of this dragged out case, last Friday's hearing finally made it seem like progress is being made in moving the case to trial.
Wilana Frazier, you may recall, is charged for an incident last year in Brooksville, FL where she allegedly brutally beat two tiny kittens with a metal bat while spewing a stream of curses and egging on her two young sons to join her. Dexter became known worldwide after PetLuv Clinic took Dexter in and helped him to recover and find a loving home before a tragic relapse into convulsions caused the kitten to lose his battle to live. We have written extensively on Dexter and the case against Wilana Frazier. You can review those posts here, where the index presents them in descending order.