Okay, so maybe chess isn't exactly the kind of play with cats and dogs we are talking about, but a big part of healthy relationships is enjoying time together.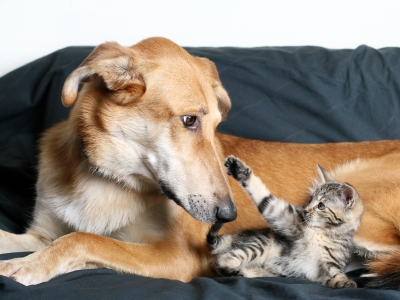 When cat and dogs are properly introduced within a household, they learn to respect one another, their boundaries, and to become part of the family. There will probably be a little bit of posturing, but that may as easily be chalked up to sibling rivalry as anything else.
There are also many accounts of cats and dogs creating their own relationships, such as Juliet and Romeo, who were found cuddling together when they were rescued and refuse to be separated.
There are instances of maternal instincts taking over with mama dogs nursing abandoned kittens or protective cats nurturing puppies.  Whatever the case, those cats and dogs don't seem to be concerned with any sort of differences between the species.  The instinct is there to take care of the little ones, doing whatever is needed to keep them healthy and happy.
For all animals, including humans, play is an integral part of how we manage our world.  It provides skills for use in life, stress relief, and the opportunity to bond and appreciate others We could probably all learn a thing to two from the canines and felines who, in spite of their biological differences still manage to get along.
Whether growing up together, being introduced into a family, or finding one another under the sorriest of circumstances, cats and dogs seem to have a an innate understanding of how to get along in the world. Theirs can be a lesson for us all.