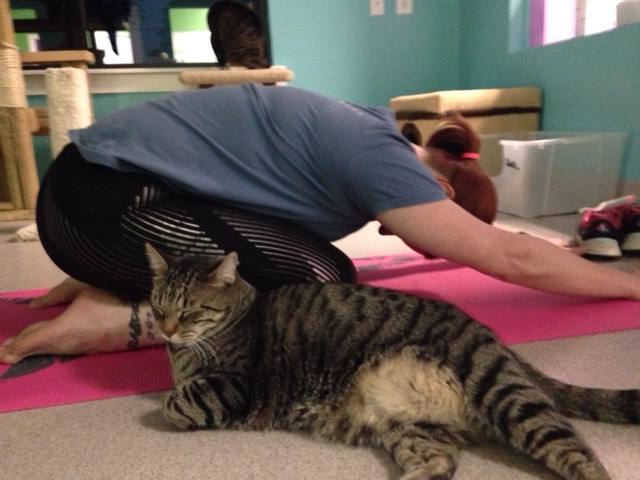 Holiday season stresses getting you down? Need some time to unwind and re-center yourself? If you're in Georgia, then you'll want to schedule a shelter cat yoga session with Good Mews.
Good Mews is a cage-free shelter located in Marietta, Georgia. The shelter started offering shelter cat yoga sessions back in July, and the idea has proven super popular with both people and cats. Good Mews staff were hoping that new potential adopters would be drawn in by the classes, though the cats also really seem to enjoy the sessions. They'll wander in, pick a mat in a sunny area, and plop down, joining in on the yoga.
Classes cost $20, and the fees go straight to caring for the shelter's approximate 100 cats. The teacher is a certified yoga instructor who also volunteers at the shelter.
Both cats and humans enjoy the sessions, and the cats benefit from the socialization these groups provide. The shelter hasn't tracked how many cats have been adopted directly as a result of the yoga sessions, but participants have brought friends and family back to adopt cats at later dates.
Want to get in on cat yoga? Reserve your spot soon – classes fill up quickly and the next available date is in January.