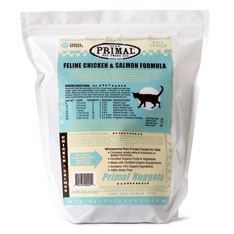 California-based Primal Foods, a company that makes raw foods for cats and dogs, is issuing a voluntary recall on one of its feline products because it may be contaminated with Salmonella.
The affected product is Feline Chicken & Salmon Formula, 4 lb. chicken and salmon nuggets (UPC# 8 95135 00025 0), with a "best by" date code of 043112-17. The date code is located on the front of the package to the right of the product label.  This product was distributed through retail stores in the United States.
At this time, no human or animal illnesses have been reported in connection with this lot code.
Consumers who purchased the recalled product can contact Primal Pet Foods directly at 866-566-4652 Monday though Friday from 8 a.m. to 4 p.m. PT for assistance in receiving a full refund or replacement from the place of purchase. Unopened packages should be returned to the local retailer. Opened packages should be disposed of in a covered trash receptacle and receipts (or the empty package in a sealed bag) brought to the local retailer.
Salmonella can affect humans and animals. People handling raw pet foods can become infected with Salmonella, especially if they have not followed proper handling procedures.
Healthy people with Salmonella infections may experience some or all of the following symptoms: nausea, vomiting, diarrhea or bloody diarrhea, abdominal cramping, or fever. Consumers exhibiting these signs after having contact with the affected product should contact their health care provider.
Pets infected with Salmonella may become lethargic and have diarrhea or bloody diarrhea, fever, or vomiting. Some pets may experience only a decreased appetite, fever, or abdominal pain. Infected, but otherwise healthy pets can be carriers and infect other animals or humans. If your pet has consumed any of the affected products and is experiencing any of these symptoms, please contact your veterinarian.
Please see the Primal Food's website for a list of Frequently Asked Questions about the recall.