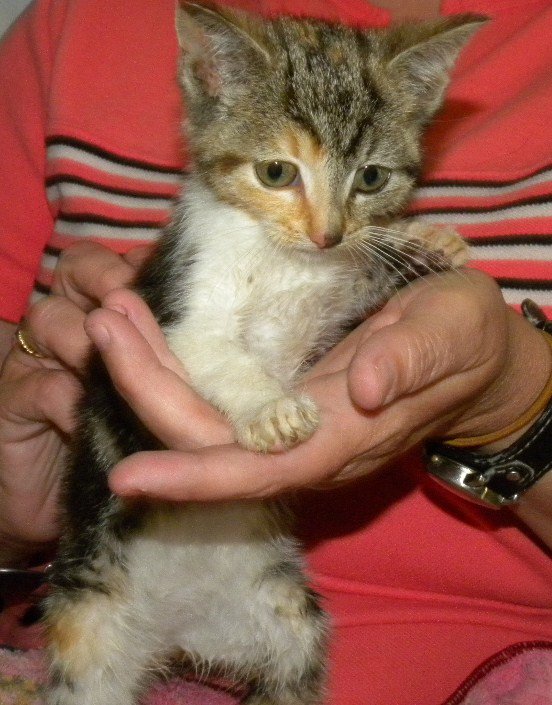 Many rescue stories begin with "someone found" the cat or kitten in question and took them to an  animal society for help. Little  Meadow was rescued by "someone" from a dumpster yesterday in Rome NY.  Thank you to all the someones out there for being in the right place at the right time, and for doing the right thing.
Someone found little 6-7 week old Meadow inside a dumpster at the Gansevoort School in Rome NY yesterday. They brought her to the Humane Society of Rome, where she was bathed, fed and sent to a foster home where she will receive care and live the safe and secure life of a normal kitten in a home environment.
The shelter reported yesterday that in addition to Meadow, good Samaritans had brought in a kitten that had been thrown from a window, and a kitten that had been dunked underwater and then locked in a cooler; all three rescued over the course of two days.
While the Humane Society deplored the cruel disregard for innocent and helpless creatures evidenced by these acts, they reminded us in the public that whether we be passionate animal lovers and advocates, or simple decent human beings, to always remain vigilant.
To quote the Rome Humane Society:
"Please stay vigilant, watch out for the animals in your neighborhood, & report cruelty to local law enforcement…help us to protect these innocent animals!"
The first part of the reminder "please stay vigilant" is one of the best things we can do to help save animals from abuse, neglect, loss, accident and harm. It's a simple matter of paying attention and stepping in.
Meadow is one little cat who will go on to have a good life after a bad incident, thanks to "someone's" vigilance. Good for her, and good for them.