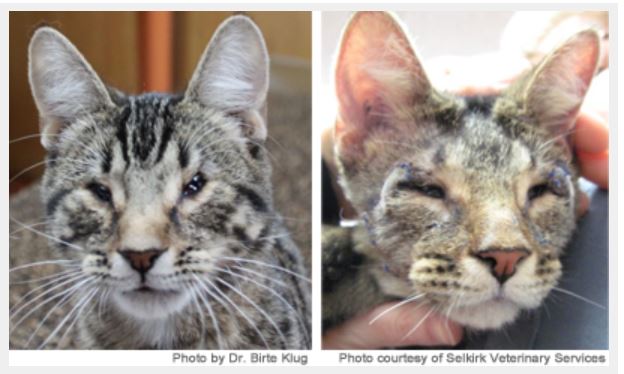 .
Two vets – one from Manitoba and the other from Long Island – teamed up to help a kitten born without upper eyelids. Joe is now recuperating from corrective surgery and will shortly go to his forever home.
.

May 16, 2013
By: Phyllis DeGioia; Edie Lau
For The VIN News Service
An online discussion between veterinarians that almost veered into a clash about pet overpopulation ended in a remarkable collaboration of two doctors to repair birth defects in the eyes of a kitten named Joe.
The doctors worked in different countries and were strangers before they met through a message board of the Veterinary Information Network (VIN), an online community for the profession.
The saga began when Dr. Birte Klug, a general practitioner in rural Selkirk, Manitoba, wrote last September on VIN about a kitten brought to her with an eye infection. Two weeks later, the infection had cleared but the underlying problem remained. Joe had no upper eyelids.
The condition, known as eyelid agenesis, is a relatively rare genetic defect that can cause lifelong problems. The eyes can't close properly. Hair and other debris that rub the cornea bring constant pain and irritation, potentially leading to ulceration. Eyes that can't blink may be inadequately lubricated.
Klug had taken custody of the kitten, which she said was born on a property with an "uncontrolled population" of cats. She was willing to try to surgically repair the kitten's eyes if a colleague could tell her how.
In reply, Dr. Noelle La Croix, a veterinary ophthalmologist on Long Island, N.Y., posted a reference to a journal article describing a procedure to construct eyelids using tissue from the upper lip. "Only an ophthalmologist should try to fix him," she advised.
Figuring that a specialist's care would be expensive, not to mention difficult to access from her rural Canadian town of fewer than 10,000 residents, Klug responded, "Guess he will see kitty heaven soon then."
That's when the conversation almost soured. La Croix questioned euthanizing the kitten without checking into options such as seeking the help of rescue organizations. "We save many at our hospital and we have a rescue fund," she said, meaning to be encouraging.
But Klug was discouraged, guessing that folks on Long Island have more money than the people of Selkirk, located 175 miles north of Grand Forks, N.D. "Our Humane Society has to euthanize 2,500 cats every year, never mind the possible 50,000 to 100,000 in the streets …" she wrote.
Concerned that she'd caused offense, La Croix apologized and explained that she performs eyelid agenesis surgeries pro bono for cats under the care of rescue groups but never for owned cats.
"I fix the cat for 'free' for a shelter if they will take five of our strays," she said, referring to animals picked up in the middle of the night and left at the 24-hour emergency hospital operated by the referral center where she works, Veterinary Medical Center of Long Island.
Klug, charmed by Joe's friendly disposition, reported that her clinic would treat his ear mites and roundworms and wait for him to grow a bit before trying to find him a new home.
With an emoticon wink, she proposed to the ophthalmologist: "At 6 months we will see if we can fly him to you and back with me watching … I can pay for some of the surgery and claim it as CE (continuing education) or maybe I find someone closer who can do it and same thing: I pay and we call it CE if I can watch."
La Croix didn't miss a beat. "If you can get the cat to me," she replied, "I'll fix it. You just have to find it a home. I still have to pay the cost of fixing it out of my pocket but I think I should put up or shut up."
With that, the two veterinarians committed themselves to giving Joe a chance at a better life.
Klug decided to have the kitten help raise the money for the procedure. "We had Joe in a kennel upfront so people could meet him. He is a social butterfly," she said in an interview. Beside him was a sign about a raffle fund-raiser. As prizes, she offered discounted services, pet food, toys and treats.
The raffle brought in about $1,000, more than enough money to cover Joe's hospital fee and associated costs such as anesthesia and surgical materials, Klug said. Excess cash went into the clinic's standing fund for stray animals.
Klug opted to pay for her own airfare to escort Joe to Veterinary Medical Center of Long Island, where La Croix is on staff. La Croix donated time on her day off and her skill to perform the procedure that normally would cost $2,500. She also invited Klug to stay in her home.
La Croix did the delicate three-hour surgery on April 19. "I take tissue from the upper lip and transfer it to the upper lid," she explained in an interview later. "Both upper eyelids are taken from the upper lip. … The lip tissue regenerates very well."
A more complicated procedure, but one with superior cosmetic results, entails using tissue from the lower lids to build the upper lids, then rebuilding lower lids with cheek tissue, La Croix noted. However, that requires two surgeries.
Choosing appropriate tissue for the restoration is critical. La Croix said upper eyelids require a particular level of firmness, or what she calls a stable margin. "You can't take tissue from an ear, for example," she said. "To build a stable upper lid … you have to take tissue from the lips or a lower lid."
Klug watched the operation with fascination. Just as remarkable was the philosophical accord to which the two practitioners came.
Early on, Klug wondered about putting significant resources into one kitten when so many healthy ones are euthanized at shelters due to overpopulation. She also questioned the financial allocation: The money to save this single kitten could save how many others that do not need expensive surgery?
Above all was a question of how much the surgery would actually improve Joe's life. "My biggest concern is to rescue the cat and then find out he doesn't have quality of life," Klug said. "When I realized he could have it, then my biggest concern was that I don't want any (other) pet to suffer because we are responsible for (doing) this."
But La Croix's generous offer to a stranger won her over, as did Joe's easygoing nature. "He's such a wonderful cat," Klug said. "There is just no way you can do that with a cat who doesn't tolerate eye drops. If a cat tries to fight you all the time, you can't help him. He (Joe) lets you do it."
She also figured that she could use what she learned to help other patients in the future.
For her part, La Croix said she often talks with her staff about pet overpopulation. Her view is that veterinary health care workers are only one part of society, and pet overpopulation is a public health problem that society as a whole must address.
If a cat is adoptable, La Croix said, she will try to help it. She did Joe's surgery and regularly provides care for patients brought by rescue groups and shelters because, she said, the dividends it pays in staff morale are "priceless."
"If I was going to euthanize him, I would not solve the population problem," La Croix said. "I'm not here to solve overpopulation. I'm here to do the right thing for an individual."
Since his operation nearly four weeks ago, Joe has been recuperating at Klug's clinic. He has a new family waiting to take him home. They are owners Klug handpicked for him — caring, conscientious, financially stable clients whose cat recently died.
"We like to say that Joe won the owner lottery, and they won the cat lottery," Klug said. "He will be looked after perfectly, and loved, and there won't be any worries about providing his medical care."
Klug still will be able to see Joe, whom she calls "the most wonderful kitten ever," whenever his new family comes in. They should be able to take Joe home this month.
Veterinarians see eye-to-eye to help kitten with birth defect is reprinted from VIN News Service in accordance with VIN policy.

The VIN News Service is not affiliated with Life With Cats.