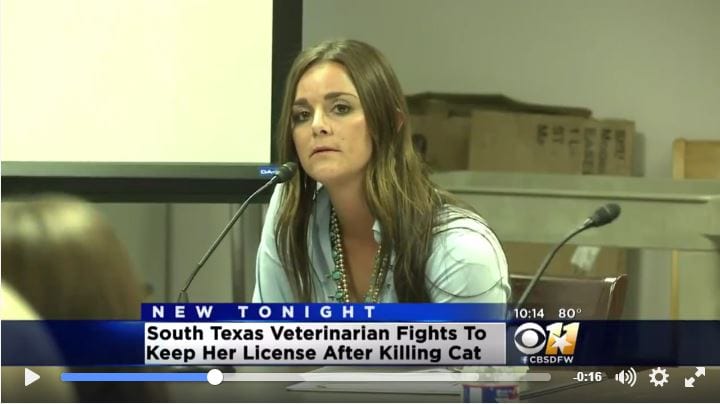 A Texas veterinarian who killed a pet cat named Tiger with a bow and arrow then  boasted about it on Facebook  now insists she is "essentially unemployable"  but still deserves to keep her license because she has "suffered enough," according to CBS News. After the Facebook posting led to public outrage, Dr. Kristen Lindsey was fired from her job at the animal clinic where she worked. A hearing on the case was held recently in Austin, Texas to determine if Lindsey can keep her license. The Texas Board of Veterinary Medical Examiners filed a formal complaint to revoke her license in October, according to a report in sanluisobispo.com.
Lindsey posted photos on Facebook last April in which she was seen posing with a dead cat with an arrow through its head. "My first bow kill LOL," she wrote. "The only good feral tomcat is one with an arrow through its head! Vet of the year award gladly accepted." The cat she killed was not a feral cat, but belonged to a couple who were neighbors of Lindsey and who attended the hearing to identify the cat Lindsey killed as their pet cat Tiger.
When questioned by her attorney, she told the hearing that using a bow and arrow was an "efficient" way to kill a cat, but admitted it was inappropriate. When asked if she would shoot another feral cat, she replied, "No, God no," according to newsner.com. She said she received death threats after posting the photo.
A decision on her license will not be made until next month at the earliest. An attorney for Tiger's Justice Team told KBTX that "many, many people" want to see her license revoked, which would be "appropriate justice." An Austin County grand jury declined to charge Lindsey, who claimed she shot the cat because she thought it had rabies. A decision on her license will not be made until next month or later. Thousands of animal lovers have joined an effort to seek justice for Tiger. Regular reports on the case and detailed coverage of the hearing appears on the Tiger Justice Team News Page on Facebook.
"International public interest in this landmark case remains high," according to a post on the Tiger Justice Team. "The Texas State Board of Veterinary Medical Examiners has received over 700 formal complaints against Lindsey, as well as written comments from all 50 states and 77 countries, and over 27,000 emails regarding Lindsey's actions. Many citizens and several animal advocacy groups continue to call for the criminal investigation against Lindsey to be reopened."