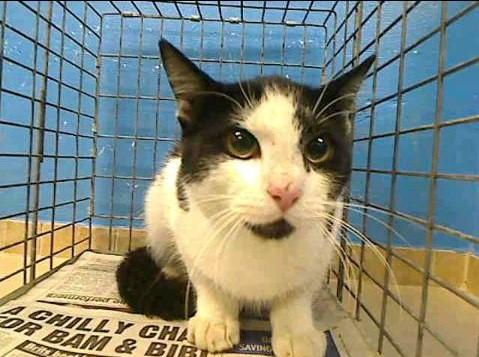 Supporters held a Jack the Cat awareness day and search of JFK airport and environs the past Satruday, 9/22/2011.Jack is, of course, the cat who was lost from the baggage area of American Airlines at the huge airport several weeks ago, under odd circumstances. Petmom Karen Pascoe, and her sister Mary Beth Griffith Melchior are still very much committed to getting Jack back. Mary Beth manages the JackThe Cat is Lost in AA Baggage at JFK Facebook page, which is command central for the search and the awareness campaign.
The search for Jack has turned up several cats and kittens that have  been taken to the NYCACC, a notoriously high-kill animal control facility. The airport does not want the cats on the property, according to Jack's page. Understandably, Jack's supporters do not want their efforts to save a beloved cat to result in needless death for others. They have mounted an appeal to cat lovers to pull cats from death row, to aggree to take pulled cats, or to share the emergency situation and spread the word. They remind people that transport is available, so rescues, fosters and adopters do not need to live nearby to NYC.
We repost the initial appeal as written at the Jack page:
WE HAVE A REAL PROBLEM. WE REALLY NEED YOUR HELP. Remember the post office sighting weeks ago that turned out not to be Jack? Well, now it turns out that cat, and several others, have been rounded up and taken to NYCACC. And the reason they are there is because of this page – this publicity brought their existence to light, and loose cats on JFK property are not tolerated. The NYCACC is a VERY high kill shelter – and if we are going to save these kids that were found because of us, we have to move fast. Please don't post excuses why you can't adopt. Either step up to take one or more, cross-post, or share. There is no "I live too far away" – transport can be arranged. And if you already have too many cats, share with as many people as you have cats. THIS IS NO JOKE. Posts to follow. And none of these kitties has more than 2-3 days to live if we don't help them.
There are further posts on the Jack page, showing specific cases of cats and kittens who need to be pulled before their time is up and they are killed.
A reminder, widespread sharing helps in such situations. You can find more information at JackThe Cat is Lost in AA Baggage at JFK. It appears that, over the past 6 hours, efforts to help the endangered cats have come together.  There still may be need; the situation remains fluid at this time.
Lest we forget, Jack remains unaccounted for.