Oliver needs a kidney transplant. This 5-year old, 16 pound boy is still eating and playing, but his kidney is deteriorating quickly.  Arrangements have been made for the ailing kitty to get the much needed transplant, but finances are strapped and Isabel, for whom Oliver is the world, is seeking any and all help.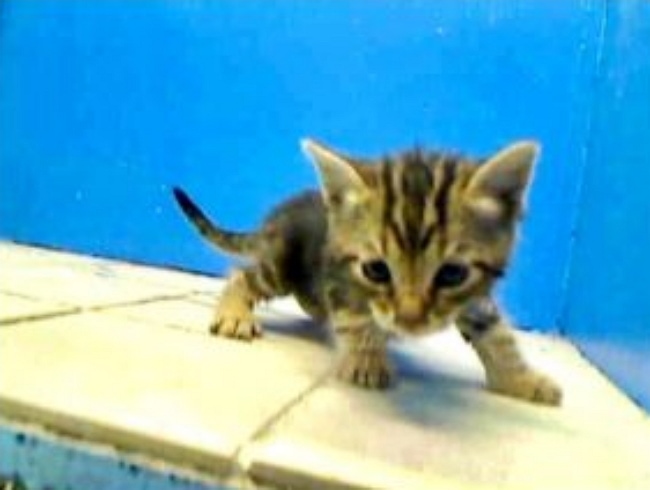 Oliver was rescued from New York City Animal Care Centers (NYCACC) with his litter in October of 2011.  Felicia was involved with another rescue group at the time, but pulled Oliver for Isabel to foster, the two ladies becoming fast friends. Oliver, for his part, once he had been declared healthy, became a foster failure in that the family adopted him.
When Felicia moved over to work at the Give Me Shelter Project, Isabel started fostering with them. Although he came from a different shelter, Give Me Shelter wanted to aid however possible it see Oliver gets the help he needs as Isabel and family attempt to get their beloved cat the kidney transplant he needs.  As Felicia shared, "Isabel is a foster with GMSP, and we support her and Oliver, because the love, commitment, and dedication Isabel has for Oliver is something we promote for all rescue animals. Their bond illustrates the beauty of rescue and the wonderful benefits of adoption. And frankly, we could likely give Oliver an honorary title with Give Me Shelter Project, as our star 'feline foster brother.' After all, it's our rescued animals that benefit from being in a home with Ollie, who is so caring and attentive to them"
When Isabel reached out to Dr. Marty Becker, he recommended the creation of a 501c to formally organize the fundraising for Oliver, assuring those who contribute their funds would go to him and, and in the event something unforeseen happened, remaining funds would be distributed to other rescue animals in need.  Dr Becker even posted about Oliver on his Facebook page. As a note, Give Me Shelter Project is incorrectly listed as being the original organization that handled Oliver and his littermates on Dr. Becker's Facebook page, but that is not accurate.  It was another organization through with Felicia, Isabel, and Oliver met, but since Felicia's subsequent move and Isabel's change to foster for that organization, they have been involved in Oliver's situation.
Oliver needs to have a kidney biopsy on Tuesday to determine the underlying cause of the Protein-Losing Neuropathy (PLN), as other possible causes, such as FIV and FeLV have been ruled out. Following the results, which take about a week, and if Oliver is fine to handle the transplant, they are hoping to move forward. Isabel, Oliver and her two children are driving to Georgia this Monday morning, January 16, where the biopsy and surgery will take place.  A shelter or homeless cat will be identified as the donor, which Isabel will also adopt into her household.  The donor cat will remain hospitalized for several days, while Oliver will take 2-3 weeks for observation and recovery.
The biospy has a minimum cost of $2K and the transplant will run upwards of $15K, barring any complications.  All donated funds will go to cover those expressed expenses.  Presently. about $1,200 has been raised, but they still need help, and every little bit counts.
This is what has been posted on Oliver's Fund:
Oliver's 9 lives have been exhausted. Isabel and her family are desperate and their hearts filled with sadness. So we are asking you to please consider helping give this sweet, loving, and very special boy one more chance at a life he so deserves. He will always have a home, never be brought back to the shelter because he's too old or sick, and will be cared for with all the love in the world… for the rest of his life.
We love you Ollie!
To donate, please visit Oliver's Fund at http://givemeshelterproject.org/olivers-fund/.  Oliver and Isabel need your help.