Last night, the plight of a sickly cat found in a Philadelphia gutter spread via the power of social networking when City Kitties posted a photo with an appeal to their Facebook page.  Though CeCe – now Clark Kent – was one of thousands of cats in need of help every day, his picture and story resonated with all who encountered it. Clark Kent's people had put him outside when he became sick instead of taking him to the vet. The cold and rain took their toll, and the cat was unable to lift his head or pull himself up when a good hearted person picked him up and saved him. For more on that initial story, see  Rescued cat found in gutter, family says they put him out because he acted sick.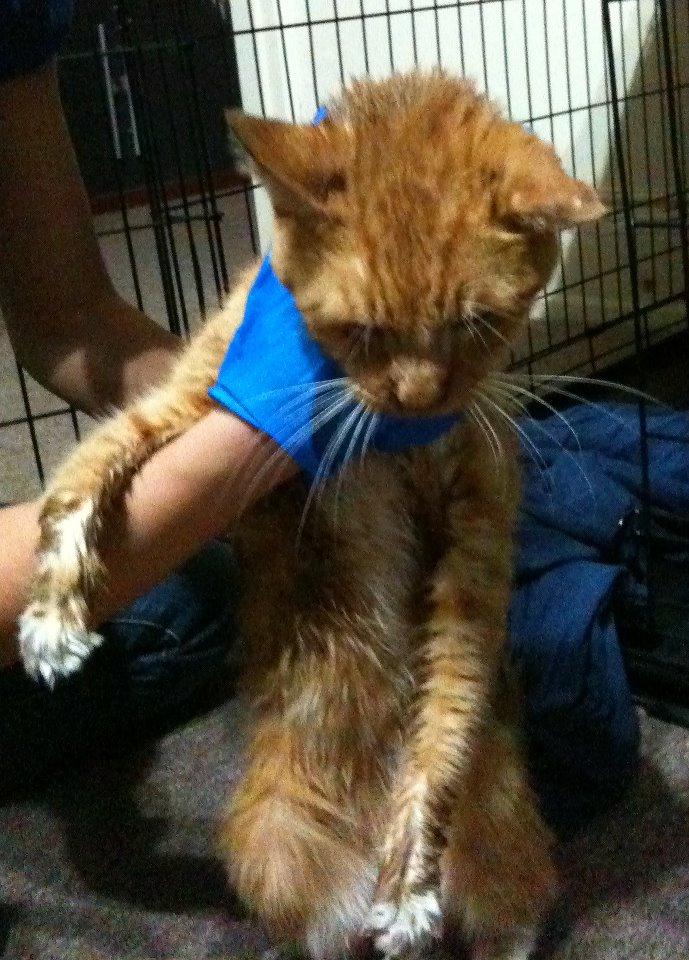 By this morning, after a blood transfusion and food, Clark Kent was improved, though weak from a number of neglect related issues, and city Kitties was cautiously optimistic about his outcome. Also, by morning, the rescue organization had received donations from across the US and around the world, to assist with this cat's care. Donations exceeded the amount needed and the remainder will be put toward saving future cats in need.
___
The organization published a full report on Clark Kent this morning, which they have graqciously allowed us to share, in the following guest post by City Kitties Rescue.
A good citizen found Clark Kent (formerly known as CeCe — he turned out to be a neutered boy) yesterday in a gutter near Clark Park. The cat was half-dead, too weak to do much when brought inside. City Kitties responded to the request for help and rushed the cat to The Cat Doctor, where his temperature was just 90 (102 is normal for felines) and his  PCV, or percentage of red blood cells, was just 8 (normal is 24-45).
Upon exam, Dr. Andeer found a microchip, and a Cat Doctor staff member called the number listed on the chip. Someone claiming to be the owner's mother picked up and confirmed the cat belonged to her adult daughter. When informed that the cat had been found and was receiving veterinary care, the woman replied, "He was acting sick. I thought my daughter took the cat to the hospital, but I guess she just put him outside." The woman seemed completely unconcerned that her family's declawed, defenseless, gravely ill cat had been outside on a cold, rainy day. When the Cat Doctor employee asked if her family wanted the cat back, she declined, saying he was too sick.
Lucky for Clark Kent, it didn't matter that his "owner" turned out to be a heartless deadbeat. Thanks to generous donors, City Kitties was able to pay for emergency care to stabilize him. After receiving a blood transfusion from The Cat Doctor housecat, Diamond, and plenty of food, warmth, and love, Clark began to show signs of recovery. He finished two bowls of wet food and his temperature gradually rose to 97.
This morning, Clark is alert but still feeling under the weather. He is dehydrated, exhausted, and emaciated. His crumpled ear is the result of an old hematoma that went untreated. And on top of all his other ailments, the poor guy has a nasty cold. But he's hanging in there, and we know he's receiving the very best veterinary medicine. We are cautiously optimistic that he will make a full recovery, given time and additional vet care.
We aren't entirely sure yet what medical issue caused Clark's near-death experience. More than likely, he simply had a horrific case of fleas, which caused severe anemia and weight loss. His "owners" clearly didn't bother to deal with this treatable condition, which must have gone on for some time to result in an adult cat becoming so sick and weak.
Sadly, Clark's rescue story is hardly unique. Over the years, City Kitties, other groups, and individual rescuers have pulled dozens of abandoned cats from the same park, which seems to serve as a dumping ground for West Philly's unwanted pets. And Clark is certainly not alone in being abandoned due to illness or behavioral problems — nor is he the first microchipped cat we've found whose owners turned out to be deadbeats. In one memorable case, an owner had adopted the cat just a few weeks before from a local shelter, then turned her loose because they didn't want to pay for cat food anymore. We will never understand how someone could treat an animal this way.
We will speak with a Humane Law Officer today about pursuing cruelty/neglect charges against Clark's former owner, but we aren't sure what the outcome will be. At the very least, this person will be added to every "Do Not Adopt" list in town.
The good news is that Clark Kent has supporters all over the world who are rooting for a speedy recovery. We want to thank the hundreds (yes, hundreds!) of people who have generously donated toward Clark Kent's care from places as far-flung as Australia, Germany, Ireland, Canada, and 30 U.S. states from Florida to Hawaii. We are totally overwhelmed by the outpouring of support for this scrappy little cat in his time of need. His vet bills are more than paid for, and any additional funds will be used to pay for veterinary care for other stray cats and kittens in need. We would also like to thank Diamond, Dr. Andeer, and The Cat Doctor staff for going above and beyond for Clark Kent. Thank you for reminding us that for every cruel person who abandons or mistreats an animal, there are hundreds of amazing and compassionate people out there willing to help.
P.S.: Not only would we NEVER return an animal to its neglectful owner, but they waived all rights to Clark Kent. He is a City Kitties foster cat now, and we will find him a real home where he can live out the rest of his days inside, safe and loved.
___
Ed. note: As of this afternoon, The Cat Doctor had reported that Clark Kent is on IV fluids and antibiotics,  due to dehydration and an infection in his mouth caused by an abscessed tooth. Tragically sadly, data from the microchip scan revealed that Clark Kent is only about two years old, and was adopted by the people who neglected him so badly, and let him down, only 6 months ago.
City Kitties tells us that they have reported Clark Kent's family for animal neglect, though they are not sure that a charges will follow.
Update:  Clark Kent's Story was originally published at  City Kitties' website.
Thanks to City Kitties for sharing this post with us, and for your efforts caring for Clark Kent, as well as all the work you do. Thanks, in particular, to Eli Green for speaking with us about Clark Kent.