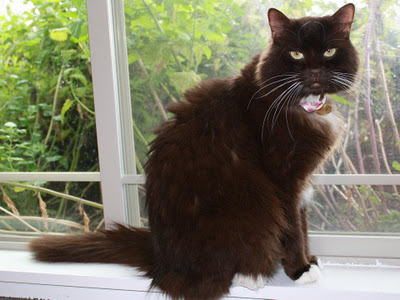 Andrea, at a real home, in foster care
Isn't she pretty? Andrea looks beautifully at home with her foster family, lounging in a sunny windowsill, playing with family members, and having a go at her new catnip toy. It's hard to believe what the Utah cat went through just days ago, when she was gassed twice and then placed in a freezer in a plastic bag. For that story see Andrea Gets Another Chance at Life After Surviving 2 Euth Attempts.
Andrea is now living the life of an appreciated and well-cared for house cat. She will stay with her foster family as she receives further medical assessment, and treatment if necessary, and until she can be spayed.  She will be made available for adoption to a CAWS volunteer or someone who has previously adopted from the no-kill organization. CAWS (Community Animal Welfare Society) is the group entrusted with Andrea's care and welfare after shelter staffers could not bear to try a third time to kill her.
Andrea was very wobbly after her ordeal, but seemed otherwise ok. Her initial CBC count, done after she was rescued, looked good, but she will go back to the vet for a follow up. There is concern that she may suffer some degree of kidney or liver damage, and the vet will determine whether that has occurred.
CAWS thinks that there is some neurological damage based on the way Andrea walks, which is slightly affected.
Andrea, up for adoption, before she was gassed.
The photo of Andrea just above shows the now-famous cat while she was one of the millions of cats who sit and wait for someone to claim or adopt them from the shelters where they end up, either because their families have turned them over, or they are picked up as strays. This was Andrea as she waited at the West Valley City Animal Shelter for someone to save her and give her a home. No one came for her so she was placed into the gas chamber to die, as happens to vast numbers of cats and dogs, puppies and kittens every year.
Hopefully, this one survivor will recover with only minor after effect and can live a good life. Hopefully, Andrea's dramatic story will nudge us toward finding a humane way to deal with the situation that still causes millions of animals to die each year through no fault of their own.