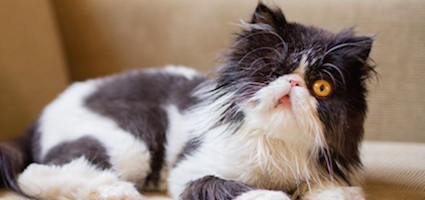 This sweet little kitten may have lost an eye, but it certainly has not dampened her spirit.  According to We Love Cats and Kittens, her owner, Meghan, she was injured when, "She tried to climb the back of a dining chair and pulled it over on herself. It was really just a "perfect storm" accident, but she was seriously injured. She was initially paralyzed and unable to eat on her own, move or walk. Her recovery was a slow process. It took weeks for her to be able to move, then stand, then walk, then run."
She continues to exude a lust for life, which includes playing outside and rolling in mulch.
Her Facebook page is filled with delightful posts from her, and she always seem to have something to say in response to a query.
SpaghettiO is an inspiration to one and all with her vibrant enthusiasm and joyfulness.  Thank you, SpaghettiO for reminding us all what life is all about.
https://www.youtube.com/watch?v=OSpzuXqt1Hw
…………………………………………………………………………………………………………………………………………………………………………………………………………………………………………