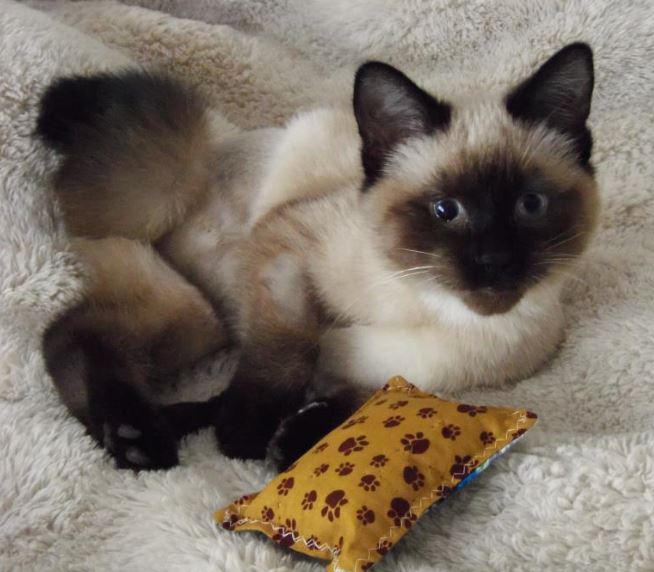 Pretzel, The Little Kitty That Could, walks around on the bed a little bit before settling down, in a video uploaded today. "I'm not going to let mom video me walking around. You'll just have to take hr word for it. Follow more of my story at and come see what a blind and handicapped kitten can overcome!"
Pretzel was found by Carmen Barnard last December. Carmen stopped when she saw the tiny twisted looking kitten lying in the road in Jacksonville, FL, thinking the animal had been hit by a car.  A veterinarian confirmed that the kitten had been born with a greatly twisted hind leg, along with other lesser deformities. Pretzel is also blind. Nonetheless, she is happy and enjoys a good quality of life.
Carmen and her veterinary specialists at the University of Floride, Gainesville developed a plan to fix Pretzel's deformed leg. She had her first surgery last month and already has greater use of the leg.
In the new photos and video, Pretzel has her bandage removed and we can see her leg as it has been realigned after the first stage surgery.
Here is an update made at Facebook today for those who have not followed Pretzel's story from the beginning:
"I see that some people have a few questions about my leg. That is understandable since we have added so many new family members to the Pretzel Nation recently! My corrective surgeries are being done in 3 parts and I have had the first one done already. Right now I am walking on the top of my foot and sometimes the toes as opposed to walking flat footed on the pads. That in itself is AMAZING because I couldn't walk on it at all before because it was twisted in a way that it was wrapped completely around my backside. While the first operation created a knee joint for me my ankle is still "backwards" so to speak. I go to my next appointment in Gainesville Wednesday morning and am expecting to get the date for my ankle correction surgery then."
For more stories and videos about Pretzel, The Little Kitty That Could, at our site, click HERE.
.
.