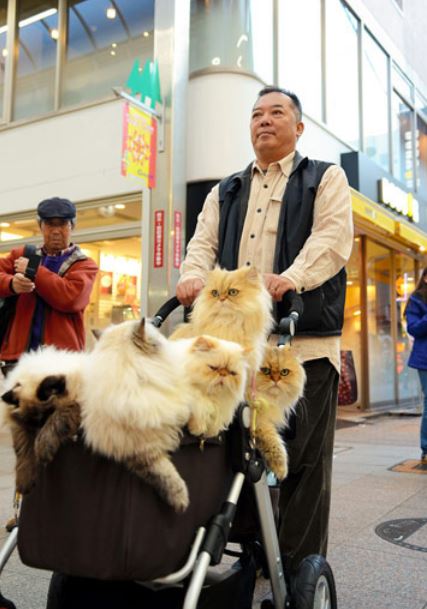 The Cat Man from Kyushu is back in the news again, four months after photos of him pushing his cats in a pram made the rounds.
We shared the story back in October with or post Cat man from Kyushu walks nine cats in a stroller, draws crowds in Tokyo.
Thanks to a new story in Asahi Shimbun, we've learned the Cat Man's name is Masahiko Suga, and that the 53 year old retiree says he hopes he hopes to encourage cat owners to have a greater attachment to their felines and to take them out for walks in the same way as dogs.
"I want more people to feel attached to cats and learn how to interact with them," he told a reported for the paper, adding that he's also happy if cat lovers who can't have one as a pet "feel comforted" by playing with the animals.
Mr Suga, a retired former electronics company worker, says the stroller outings also help his nine cats to overcome the boredom that formerly had them ripping up the upholstery on the furniture in their home.
Mr. Suga became a well-known figure about town when he began taking his cats out for walks in the stroller in Kagoshima, Kyushu, but later gained greater fame when he started to walk them in Tokyo shopping districts.  While earlier reports said the Cat Man had moved to Tokyo, the new Asahi Shimbun story says he drives to Tokyo with the cats in his camper van.
While Japan is famous for its cat cafes, and for internet stars like Maru and other cats featured in videos and at blogs, figures in recent years showed that dogs were the more popular choice among pet owners.
"I am happy if I can give an opportunity for cat lovers unable to have one as a pet to feel comforted by playing with my cats," said Mr. Suga, who is petdad to the nine felines that include Himalayan and chinchilla golden breeds.
Mr. Suga first took in a stray cat in 1999, and then adopted the cat's siblings. He said the cats relieved his work stresses but then caused other stress by tearing up the furniture. The outings quickly calmed the cats down and tamed their destructiveness, and they are said to enjoy crowding into the stroller for their fresh air jaunts. The cats are also said to enjoy meeting their many admirers.
"I hope society will eventually give cats the status it gives to dogs," Mr. Suga said.