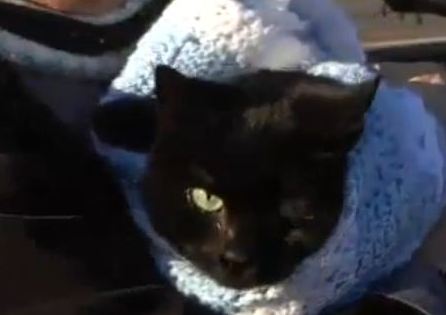 Lynn Schettina goes out every day, feeding the Staten Island cat colonies that depend on her. Cats come out waiting when they hear her car approaching. Many are friendly, many are beautiful; all are dependent on her – or someone's – willingness to serve their needs. Lynn and her sister feed several colonies and have conducted TNR operations on hundreds of cats over the years. Lynn is not a crazy cat lady, she's a compassionate person who took it upon herself to help where she was needed.
On Tuesday, October 30, the day after Superstorm Sandy brought its devastating force to the US midatlantic coast, Lynn ventured out to check on the cats and to feed them. When she arrived at Lemon Creek Park she saw a strange mud mound moving around and went to investigate. The mound turned out to be a beautiful black cat she'd never seen before. Lynn brought the cat home, cleaned her up and took her to the vet. She had obviosly been caught up in floodwaters and carried off with mud and debris. She ended up by coincidence at a cat colony where the landscape was changed overnight, as debris and boats turned up where they didn't belong when the storm came through.
The cat is a female about 5 years old. She's been spayed, and does not have a tattoo to record her spay, so she was somebody's pet sometime. Her demeanor and timidity also indicate that she has a home until recently. Lynn thinks she cannot have been homeless for more than a few months, at most.She does not have a microchip and was not wearing a collar, thus there was no way to trace her back to anyone. She is being called Sandy to commemorate how she was found. Sandy had her tail removed sometime, too, in a surgical procedure.
Sandy was terrified when Lynn found her and still shows signs of the trauma brought on by the storm. She is extremely loving and friendly, and will rub up on those she meets, looking for love. Despite her loving nature, she is afraid to be out in the open right now. She wants to be in the car, or in the bathroom, but not in a small carrier.
Lynn has tried to find Sandy's family, if she has one, but no one has come forward to claim her. Now she needs to find someone to give Sandy a good home. Lynn is well acquainted with many cat caretakers and rescuers in the NYC boroughs, and she has reached out through social media and the TV broadcast below, which was run several times yesterday on the local 24 hour cable news channel.
There is one factor that limits the adoption pool for Sandy. She may have FIV, but it is not conclusively known. She tested positive when Lynn took her to the vet but she has not been retested to find out for sure whether she has the virus.
Lynn has handled many adoptions over the years, and is handling Sandy's adoption herself. We asked if Sandy can go to an adopter out of the greater NYC area if reliable transport arrangements are made and she said yes, that is an option.
We are asking, if you cannot adopt Sandy yourself, please share. Sandy has been through a terrible experience, is very sweet and loving, and needs someone to make a nice life for her.
Sandy was feeling very nervous during the filming of the news story below. She was not happy to be back at the place she'd been found, which was noisy at the time the segment was being made.
Lynn pays for everything she does for the cats out of pocket and does not charge for adoptions. If adopters want to contribute, she asks that they donate cat food she can use to feed the cats she cares for.
Lynn can be reached at 347-983-4006, or at her daughter's email, [email protected] .
.