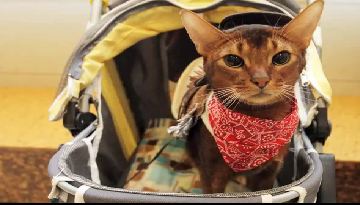 Boston resident Coco Koh's Abissinian cat Jacoby has been riding the MBTA public transportation system his whole life. He's traveled around town without causing much of a fuss until this Wednesday, when some fellow commuters complained, some came to his defense and a controversy erupted at Twitter, where he gained the instant nickname #strollercat.  Pushing the ruckus along, several people uploaded pics at the same time.
Some commuters on the train with Jacoby complained about allergies, which is often a code word for "I don't like cats", while others begrudged the space his large model stroller took up. Other riders said his presence didn't bother them a bit. Those positions were echoed by those who chimed in at Twitter. Coco and other have countered the criticism, in part, by noting that cats and dogs are allowed on the T.
The dust up has drawn attention to the fully rounded life of the cat, thanks to a front page feature in today's Boston Herald. The article tells readers that Jacoby runs errands with Coco, attends cat shows, and does good works as a Delta Society Pet Partners certified therapy pet visiting nursing homes and hospitals in the greater Boston area. Jacoby also made the news on the local Fox affiliate.
Jacoby is regularly featured on Coco's @abyaday twitter account and at her blog site The Daily Abyssinian: Life with Abys, One Day at a Time.
Despite the snarky assumption of some that Coco is single because she has cats and takes one out in a stroller, she lives in Boston with her husband, along with her Abys, Jacoby, a Ruddy and Angel, a Red rescue w/1 eye. The cats' lives and activities are chronicled at the blog.
.
@ Broadway T, waitng for train to Quincy Center #halloween twitter.com/abyaday/status…

— Aby-a-Day (@abyaday) October 27, 2012
.
Turns out, the real contest is TOMORROW!! We're gonna have to do this all over! twitter.com/abyaday/status…

— Aby-a-Day (@abyaday) October 27, 2012
At Logan Int'l arrivals, waiting for Dad's flight from Germany twitter.com/abyaday/status…

— Aby-a-Day (@abyaday) October 20, 2012
.