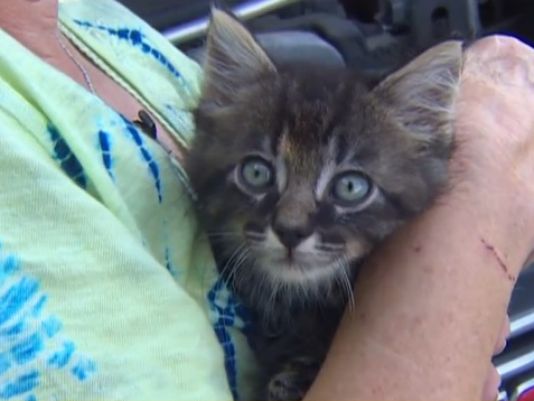 Fenny left one flooded area for another while tucked away under the hood of a woman's car, then found himself a new home.
On the Sunday of Memorial Day weekend, Pat Joblinsky was taking a holiday break at a little cabin in San Marcos, Texas when she was woken up at 1 a.m. and told to evacuate because of heavy rain and flooding.
An hour later, she was one the road, headed east on Interstate Route 10 driving back home to the Rosharon area, which is located just below Houston.
During the 175-plus mile trip home in the wee hours, Pat thought her imagination had gotten the best of her when she heard meowing.
She told KHOU News: "I heard a kitten and I thought I am really stressed out I'm hearing cats."
The meowing continued, though, once she was back home.
"I came over here, lifted up the hood and there he was," Pat told KHOU, while pointing out the spot where the tiny 1-pouund kitten was sitting atop the engine block.
Speculating on how the kitten was spared the ill effects of sitting on a hot car engine, Pat said she thought the cooling effect of the constant rain during the trip saved him from harm.
Fenny is thought to have been born at the San Marcos campground, where a resident cat had recently given birth to a litter of kittens.
Having endured separation from his mother, heavy rains, an hours-long ride in the engine compartment of a car and flooding at both ends of the journey, things turned out very well for Fenny. Pat is keeping him and giving him a permanent home.