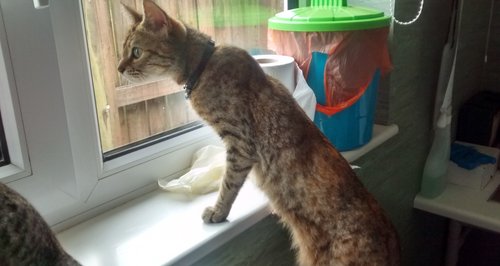 Two young cats are safely back home after an ordeal which saw them being stolen and then taped into a box and dumped in the trash. They have been identified as a pair of kitties featured in online search efforts after being stolen from their worried owner.
The RSPCA was called after a young girl found two kittens left for dead in a sealed cardboard box dumped amongst bin bags in a lane outside St. Martin's Primary School in Liskeard, Cornwall, UK last week.- the evening before the council's trash collection day.
The two tabby kittens, both less than a year old, had been left trapped inside a large taped up cardboard box with air holes and cat food inside. Both kittens also had distinctive collars on and one kitten also appeared to have recently given birth to a litter of her own. These details allowed the RSPCA to track down the owner of the kittens where it turned out that the pair had recently been stolen.
RSPCA inspector Lewis Taylor who is investigating the case said: "These beautiful, friendly kittens have been treated like disposable objects that could just be thrown away like an old tin can – it is completely unacceptable for anyone to abandon animals in this heartless way. We think that whoever did this was perhaps starting to feel the heat as the fact they had been stolen was starting to gain a lot of attention on social media and they clearly felt that, instead of doing the right thing by returning them to their rightful owner, this would be a good way to wash their hands of them.
"The kittens are extremely lucky that this kind girl found them as I do not even want to think of the unimaginable and horrific end that these young cats could have met if they had not been found in time and had just been loaded up with the rubbish.
"Thankfully these kittens already have a loving home and the worried owner is over the moon that they have now been found, albeit in somewhat awful circumstances. What has happened here though is an offense, not only of theft but also under the Animal Welfare Act 2006, under which those responsible could face up to six months in prison or a fine of up to £20,000."
The rescued kitties are now safely back home.
<via>