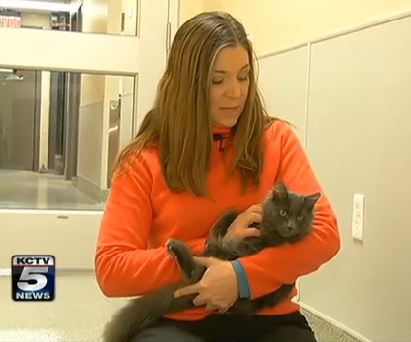 Wayside Waifs, of Kansas City, MO, is caring for a sweet, special kitty who came to them as a stray. Stiles is a cat with bent or twisted lower front legs, like Pip, from Tenth Life. Stiles is like Pip in that he needs some special consideration because of his disability, but is well able to get around and live a mostly normal life. Stiles is also like Pip in the way his endearing personality has charmed everyone at the shelter. Pip went on the be adopted by Tenth Life Director, Elizabeth Frick. Stiles will be available for adoption after a mild respiratory infection is cleared up.
The report below says that the condition is rare, and Wayside Waifs has not dealt with a cat like Stiles before. Staff veterinarian Alison Liu told KCTV, "None of the vets here at Wayside Waifs have ever seen this condition. I've also consulted with a special surgeon who sees a lot of orthopedic cases and she's been in practice for about 10 years and she's never seen one." While the condition is very uncommon, we may be seeing more cats like Pip and Stiles, as more specially abled pets are being allowed to live and find their forever homes.
While Stiles can easily live a normal life, he will benefit from some simple accommodations. He is on the waiting list for a pair of specially designed leggings from Leggings For Life, which will provide cushioning to his lower front legs and save him from tenderness and sores. His adoptive family will be advised to have carpeted floors for his comfort and well being, as well. He will need to have regular vet checks to catch any signs of arthritis or back strain should they appear. Stiles shows no signs of discomfort, though, and loves being held.
Dr. Liu said "Stiles is actually one of the most affectionate cats that we have here and is a staff and volunteer favorite, so he's going to continue to give a family lots and lots of love."
You can learn more about Leggings for Life at our post, Willow and Leggings for Life for Special Needs Kitties.
Wayside Waifs is a charitable animal shelter whose purpose is to place adoptable animals in responsible homes. Wayside Waifs is Kansas City's largest no-kill animal shelter.