Life With Cats readers were introduced to Sponge Bob on May 23.  Since then the ginormous cat and his caregivers have been besieged with media requests, and the news coverage is breaking in a big way. Bob will appear on national TV on Sunday morning.


Sponge Bob was accepted by Animal Haven in NYC in April, weighing in at 33 pounds.  The family member who made arrangements for Animal Haven to take Bob said he was large, but the shelter was not prepared for the sight of the utterly gigantic 9 year old tabby who arrived, and everyone on hand just stood stunned at first, as they took in Sponge Bob's sheer size. He was given extra large accommodations, to encourage him to move around, and gets daily exercise. As with many obese cats who are on regulated weight loss diets, Bob is on the so-called Catkins high protein, low carb feeding plan.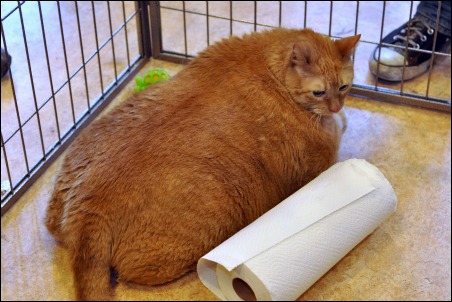 We first learned about Bob when good-hearted animal lover and shelter volunteer Suzi Anders posted avideo with him on April 12 at her For the Love Of Animals YouTube channel.  Suze posted updates on Bob and we decided to share his story when we saw that he had lost three pounds and was showing himself to be fitter and less easily tired out by activity.
We posted about Bob on May 23, with 33 Pound Sponge Bob Loses Weight And Gets Fit With A Shelter's Help. The following day Animal Haven started receiving media requests for photos and interviews. Now, Bob is splashed across newspapers and the internet from the US and the UK to India and Nigeria. Given the vibrant tabloid news culture in the UK, Bob has made an extra big splash there. Last night I found a story on him at Business Insider.
Expect to see more of Bob in the coming days. For starters, tomorrow he is scheduled to appear on the Sunday edition of the Today show, accompanied, we believe, by Animal Haven Associate Director Kendra Mara and Suze Anders.
Bob's story is really two stories. There's the eye-grabbing story about a gargantuan cat, with Bob stepping into the spotlight not long after the unfortunate death of Meow, who appeared on the Today Show and Anderson Cooper and at newspapers and websites big and small. Then there's the story of the cat who needs help reclaiming his quality of life and who needs a good home.
While some headlines trumpet him as the current world's largest cat, Bob is one of several huge felines to end up at shelters in recent months. There's Fat Boy at the Moose Jaw Humane Society, Walter, who was adopted from the Oregon Humane Society, and Wheels, also at OHS. Our March 17 post 33 Pound Wheels is the New Heavyweight Champion Cat at OHS covered Wheels' story and included footage of him struggling to get around. Wheels was sent to OHS because of that shelter's expertise in dealing with severe cases of feline obesity. Wheels is described as a sweetie, and it is just sad seeing him struggle to move.
As can bee seen in the stunningly strange photos now making the rounds, Bob is not just fat, he is huge and long. His caretakers and guardians are happy to share Bob with the world and understand that there is a sideshow element to the interest in him, but their first and only interest in Bob is to set him on a path to a better life. They feel that Bob is ready for adoption, and they are seeking an adopter to give him a good home. They also want his adopter to continue Bob's progress toward careful weight loss and greater mobility.
After almost two months of  regulated exercise and diet and constant loving care, Bob is still almost heartbreakingly large and his mobility is still affected by his size. He has made good progress, is adorably cooperative when getting encouragement to exercise, and is in good health. Heart disease and diabetes are dangers for cats of Bob's size and he should be monitored for both as part of his regular health checkups. Those who know Bob find him to be sweet and companionable, and he will surely make someone a wonderful pet and family member.
The two video reports on Bob below contain much of the same information, but they differ enough for us to include both.
Animal Haven's main location is in Lower Manhattan, in NYC. They serve the Tri-State are and travel to adoption events and opportunities with their Mobile Adoption Van. Information about Animal Haven can be found at their website and at Facebook.