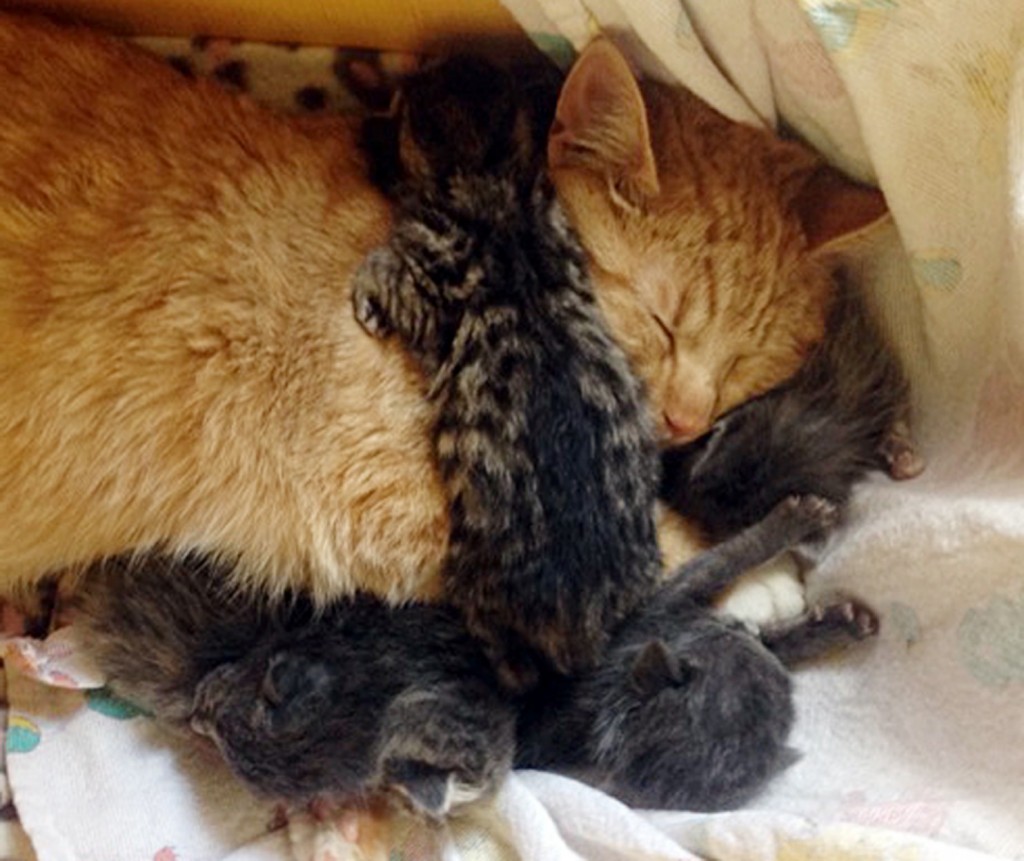 Henry, a young male cat in Ketchikan, Alaska, has adopted six abandoned kittens rescued after being found on the side of a road. His petmom says his parenting may be the factor that saves the kittens' lives.
Heather Muench of the Ketchikan Humane Society is Henry's petmom and she is also fostering the kittens, who were barely more than a week old when they were put in a cardboard box and dumped. They are now between three and four weeks old.
"Luckily, some children walking home from school heard them crying in their box," Heather said in a radio interview with KBRD.
Henry is also a Ketchikan Humane Society rescue kitty, who is slightly handicapped by a neurological disorder that causes him to a little unsteady when he walks.
The sweet orange tabby wanted to take care of the kittens as soon as Heather brought them home
"It's really kind of cute," Heather told KBRD. "The first thing he does is start compulsively licking one. He'll spend hours in there licking them … I think, 'Oh my gosh, they're not going to have any fur left.' But he's really good at cleaning them up. I shouldn't complain, because then I don't have to do it.
"The cat nurturing, it's increasing their chance of surviving."
"Yesterday, when I took them to work with me [so they could have their regular feedings] , he was very upset because someone had stolen his babies for the day," she said. "When they came home, he was like, 'Get them out of the carrying case. Put my babies back!'"
The Brady Bunch kittens, as they are being called, are named Jan, Marcia, Cindy, Greg, Peter and Bobby.
Heather cautioned that while the kittens are doing well at three weeks old, time will tell whether they survive.
"There's diseases out there. They're too young to be vaccinated. They could be full of parasites – they can't be dewormed yet," she said. "There's upper respiratory infection; they could have something that we don't even know about, because they're so tiny."
The loving care they are getting from Henry is highly beneficial and may be the factor that helps them to survive.
 <via KBRD Radio>