Smokey was left at the entrance to the Coventry RSPCA at 11pm on a holiday to spend the night outdoors sitting in a crate with  "my name is Smokey!!" scrawled on top.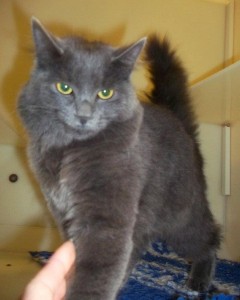 CCTV footage shows a vehicle pulling up to the Coventry RSPCA centre at 11:15 on December 26 to leave Smokey for staffers to find the next day. The footage does not show much detail, and we just barely see a person carrying Smokey in his crate.
We don't know why the grey cat was left at the end of the drive at the animal centre when it was unstaffed on the day after Christmas but find it poignant that whoever gave him up felt it was important that those who found him would know his name. The RSPCA calls Smokey's abandonment another case of Christmas dumping, but we don't know whether he was dumped out of callous disregard or because of dire circumstances in his people's lives.
Reaction was mixed when the local news outlet The Coventry Telegraph reported on Smokey, with some people thinking it cruel and others pointing out that Smokey was, at least, left where RSPCA staffers would find him the following day.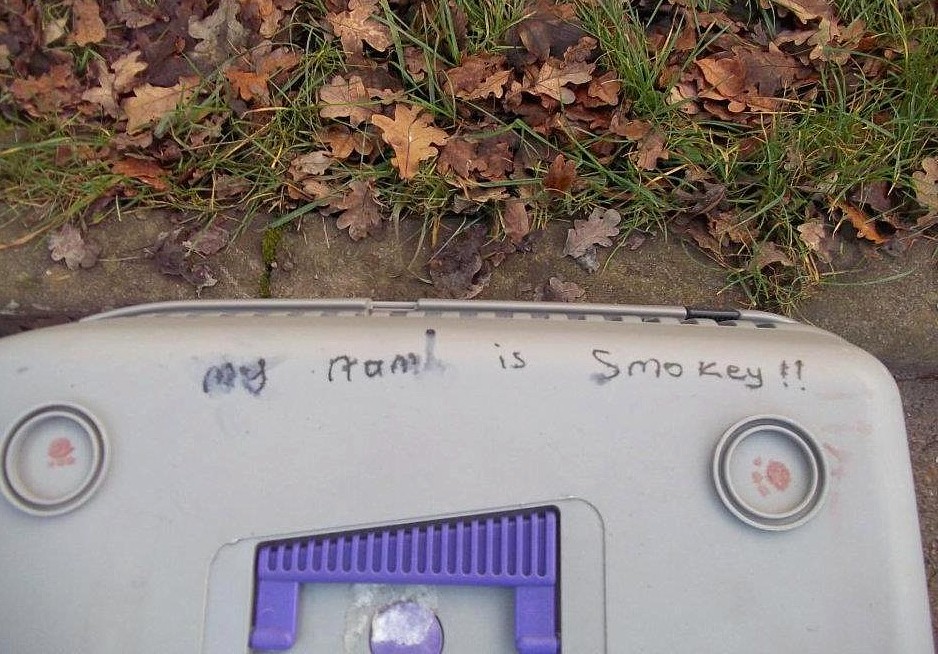 The Coventry RSPCA tells Smokey's story this way:
Smokey the cat became another victim of the annual post-Christmas throw out after being found abandoned on the animal centre's driveway on Tuesday morning. CCTV footage showed Smokey's owners had dumped him on the driveway at 11.15pm on Boxing Day knowing that the centre staff would not return until the following morning.
Glenn Mayoll Centre Manager says 'Smokey is really lucky the weather has been so mild recently, dumping an animal is bad enough but doing it so he wouldn't be discovered till the morning is just callous. Anything could have happened to him.'
The centre staff are hoping that Smokey was not the victim of being replaced by a newer model received as a Christmas gift. Despite repeated messages not to buy animals for gifts especially Christmas the centre was still inundated with calls from people before Christmas looking to buy a pet as a present.
The RSPCA Centre is already packed to the rafters with animals and is desperately hoping this case is not the start of things to come. The Centre urgently needs adopters to come forward the Animal Centre is open from 11am – 4pm every day except Tuesday.
Smokey's adoption bio reads, in part:
Smokey is looking for a home where he can spend time inside and outside and so a quiet location is very important he also needs to be in a home with adults and children over 8 years of age as he can be a little rough during playtime. Smokey can also possibly live with other animals although further testing is currently being done.
Smokey loves to be groomed and due to his semi-long coat this is very important to his weekly routine keeping him in tip top condition. He is also litter and cat flap trained.
Due to local publicity, adoption offers poured in for Smokey, so he will have a new home. The centre hopes that those who would have opened their hearts and homes to Smokey will take one of the many other cats who sit and wait.
The RSPCA Coventry and District branch, is located in Allesley, UK. Though they were inundated with animals in 2011, they still managed to attain a placement rate that put them in the top ten for rehoming centre success rates in the UK. Credit goes both to the RSPCa branch and to the community.