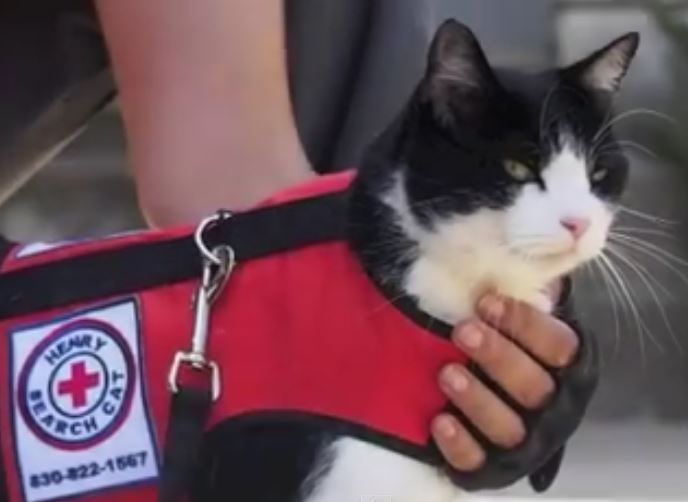 .
Search & Rescue Cat Henry sniffs out lost kitten…
Henry works with his petmom Kim Freeman, pet detective and owner of Lost Cat Finder in Austin, Texas.  In December of 2014, Henry came to the rescue and located a couple's missing kitten, who had slipped out of their car at a gas station during a move.
Kim tells the story:
Imagine you're transporting your cat to a new home far away. You stop for gas on at a busy intersection for gas in the dark. Four hours later, you realize your cat is no longer in the car. Not hiding among the piles of clothes or moving boxes. Not in the moving boxes. Gone.
Little Mo had slipped out of Byron's car at the gas station in the dark, unseen. Four hours later, Byron realized his cat was gone and went back, calling, searching, desperate to find his little kitten in the cold dark night amidst the constant traffic of cars and trucks. The next day, the Humane Society told him to call me for help.
I loaded up the car with search gear and Search cat at 3:00. After learning from the gas station attendant that the kitten had gone into the store and been thrown back out by employees, we started our search.
Henry was on the job, and his waving tail told the tale. After lots of investigating, sniffing and checking around the perimeter of the grubby parking lot and side deck, Henry and I found Little Mo hiding in a pile of trash, very scared, very confused. Thanks to Mo's little yellow collar and Henry's swishing tail, I was able to spot this little black kitten amid all the trash.
I knelt down in the trash and put Bryon on speaker phone so Mo could hear his voice. It worked! Mo came out far enough that I was able to scruff him and get him under my jacket. I got him to a quiet safe place (thanks to the wonderful and kind Julie Woosley) where he would be warm and safe until Byron could make the 4 hour drive back to be reunited!
Megan and Bryon were so excited to see him, and as soon as they entered, Mo hear them and started meowing from his room. He knew those voices and they knew his.
Watch the story, and see Henry on the case:
.
.