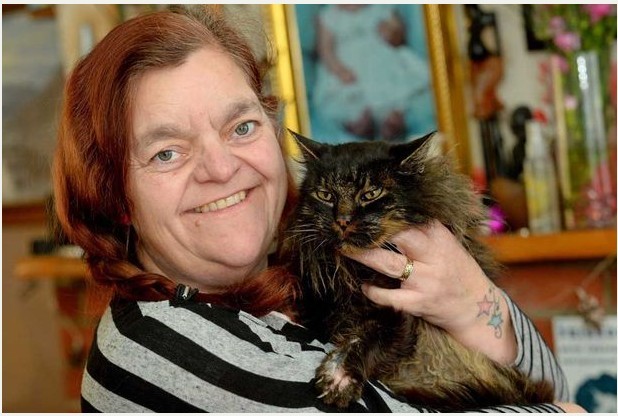 Scruffy surprised his petmom when he returned home after 8 years, and she thinks he's come back home to die.
The longhair tabby cat was sitting on Karen Raymond's doorstep in Bovey Tracey, Devon, UK one day recently when she arrived home from the hospital, where she'd had knee surgery.
Scruffy was matted and bedraggled to the point where he was almost unrecognizable as he greeted Karen on her doorstep but she knew she was seeing her long lost cat again. Karen had Scruffy from the time he was an 8 week old kitten. He had disappeared one time earlier, when he was 5, and turned up at a neighbor's farm.
"My cat went missing eight years ago, but he just turned up on my doorstep out of the blue when I had come back from hospital after a knee operation," Karen said.
"I knew it was him as soon as he miaowed. My husband wasn't too sure, but I knew straight away it was Scruffy.
"I was really pleased to see him. I fell in love with him as soon as I saw him as a kitten and he has always been my favorite cat.
"He was such a friendly, loving cat and he's still got those characteristics now."
A trip to the vet with Scruffy revealed he has a mouth tumor and is not thought to have long to live.
"He was very thin and his coat was very matted so we took him to the vets, who said he might need to be put to sleep.
"I didn't want to do it this week because he's come home for a reason and I want to spend a bit of time with him.
"At the moment he has perked up and is eating and drinking and using the litter tray. He's a lot livelier than he was when he first turned up three days ago.
"He is very friendly and very happy to be around people. It's like he's never been away. He won't leave me alone and follows me everywhere.
"Wherever he has been he must have been fed for a long time, but recently he must have been living feral.
"Where he has been is a mystery. It's very weird that he's just turned up after all these years. Usually cats go away to die, but I think Scruffy has come home to die."