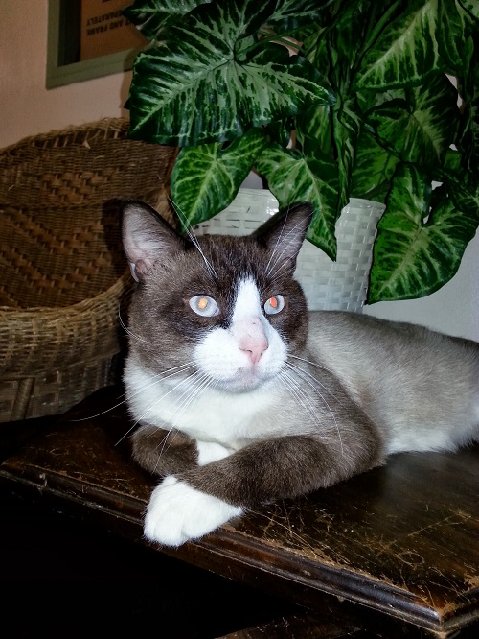 When Saki arrived at A Helping Paw, a no-kill shelter in Massachusetts, his former owner claimed she could no longer afford to care for him. This seemed to be a legitimate reason and A Helping Paw was committed to helping Saki transition into a new environment and, hopefully, a new home.
However, shortly thereafter, A Helping Paws found out that Saki's owner went on to search the internet and find a Persian to replace Saki. Apparently, Saki's looks did not meet her tastes and he was thrown out of the home and abandoned because of this. Clearly, Saki was not getting the love he deserved in such a home.
Saki is now searching for a home that will never abandon him or exchange him for a "better" breed of cat. Saki is a sweet cat who needs someone willing to dedicate time to building a loving bond with him, as he is initially shy around people.
If you are interested in adopting Saki, please visit A Helping Paw's website for adoption directions.
—————
A Helping Paw is a 501(c)3 no-kill shelter located in Buzzards Bay, Massachusetts that began in 1998.  One of their biggest goals is promoting sheltering with no-kill options and to encourage other shelters to consider doing the same. They try to help such shelters take the needed steps to becoming no-kill as well.
The organization is run by a dedicated team of volunteers. They also work with the local community to provide low cost pet food, low cost spay/neuter vouchers to local vet offices, education services and a pet hotline. These community programs are administered in order to prevent more pets from entering a shelter situation or being euthanized.