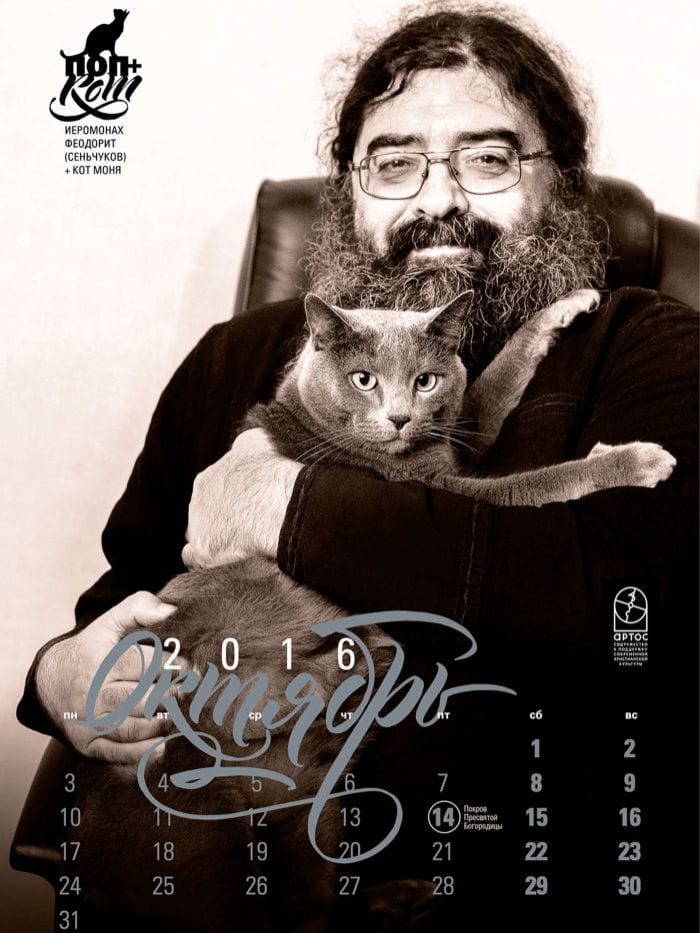 It may be the most original cat calendar in a crowded field of contenders. The Australian Broadcast Corp. reports that twelve bearded Russian orthodox priests and their cat companions are causing a quite a stir.
Russian Cosmopolitan magazine has taken note, as well as the media. The project was the brainchild of Ksenia Luchenko, a Russian journalist who was working on a book that depicts priests in their everyday lives, according to ABC. The calendar is called "Pop i Kot" or "Priest and Cat."
"By chance, we had a photo of a priest with a cat and I thought: why not do a series?" Luchenko told ABC, which called the calendar's debut "a rare venture into popular culture" for the reclusive holy men. The calendar was put together by an Orthodox news website. So what'ts the appeal? The Komsomolskaya Pravda tabloid reported that "the priests are kind and twinkly, and the cats are cute and fluffy."
The portrait style photos are dignified yet intimate as the cats are seen sprawled on the holy men's chests and laps or draped around their necks. It is the first public venue showing the Russian priests up close and personal, according to Luchenko. The ABC online article reports that the calendar is not endorsed by the Russian Orthodox Church, which does not seek out publicity and prefers to print religious-themed calendars depicting holy icons.
It is the natural quality of the photographs and the shared, animal-human bond that comes through in these simple domestic portraits that set them apart. "It's all their own cats — nothing was staged," Luchenko said. "It was whoever had a cat and was ready to pose for a photo." No one is speculating about why so many priests have cats as opposed to dogs, or whether the cats themselves possess a spiritual quality. However, the photos radiate an appealing tranquility. The Russian calendar had an initial print run of 1,000 copies but demand may increase. Several churches had ordered them to sell in their shops, according to the report.
The twelve black-and-white photos were taken by photographer Anna Galperina. A senior church spokesman Vsevolod Chaplin told a local radio station it was "not a great sin" but added: "I wouldn't hang such a calendar on my wall."
About Author