Rikki's Refuge Animal Sanctuary is competing in today's vote in the Toyota 100 Cars For Good contest. Rikki's will use the Highlander SUV for a low cost spay neuter program and for outreach visits to schools and public events if they win. You can vote from the widget here.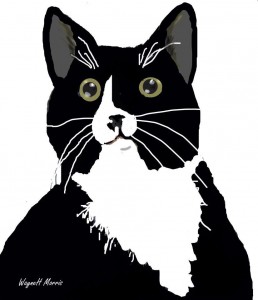 Rikki's Refuge is especially well known for its special needs spokescat Vincent D. Cat, who recently passed away at age 14.
Rikki's provides a lifeline for cats in need and takes FIV and FELV cast through arrangements with rescues from hundreds of miles away.
They also facilitate with adoptions associated with shelter pulls and help to coordinate transport for animals who have gotten another chance at life.
Rikki's Refuge, of Rapidan, Va, is home to 1,300 domestic and farm animals of 22 species, most of whom will live out their lives at the sanctuary. Rikki's is home to senior, blind, lame & otherwise differently-abled animals.
Pets like recently deceased spokescat Vincent (accident left him with 3 legs), Opie, Vincent's successor (born with out hind feet), Duke their chief spokes-dog (born blind) & Nanny (senior goat) would be euthanized at most shelters.
At Rikki's, however, they have found a mission: teaching about compassion, acceptance & spreading happiness.
Appearing at Scout groups, schools & public events, Rikkis' spokes-animals have taught hundreds of children to accept & not fear those who are different.
In the last year Rikki's had to curtail many visits for lack of a reliable vehicle. Traveling is especially difficult in rain & winter weather on our rural roads. Winning a 4-WD Toyota Highlander would be a lifesaving dream come true & would allow them to continue their outreach & education mission.
Rikki's fulfills its missions of providing a well run and caring home for unwanted animals and birds, while reaching out to teach tolerance and compassion, and offering a message of acceptance to people struggling with their own disabilities.
Rikki's director Kerry Hilliard, and its staffers and volunteers, live their mission to help animals, petparents and rescues, both locally and from  far and wide. Today, they are counting on their friends to take a moment to vote to help them to become Day 24's winner in the Toyota 100 cars For Good contest. If you wish to vote for Rikki's today, Wednesday, June 6, and have not done so already, you can use the widget here to place your vote.
(You'll have to use the back button to return to this post from the contest page.)

Note: One charity wins a car from Toyota every day during this contest running for 100 consecutive days. Every day (or nearly so) there is one animal charity in the contest. Some animal lovers vote for each animal charity competing in the contest.
This video was made to accompany their contest profile. It only focuses on one of several way in which Rikki's is a deserving charity.