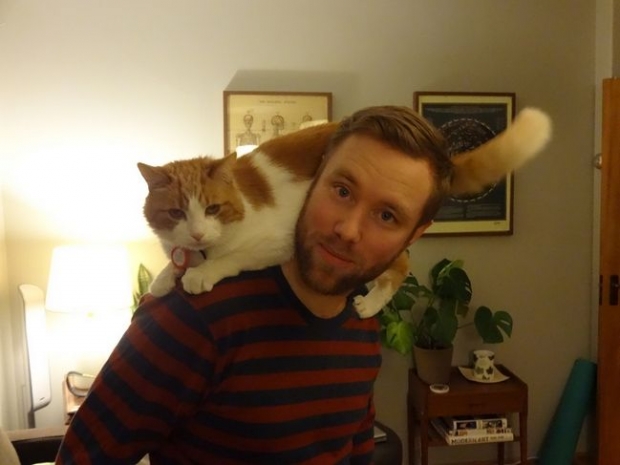 A Reykjavik, Iceland cat named Örvar, who was missing for 7 years, was welcomed home with a joyous reunion after he turned up at a cat shelter in February.
"I think the universe decided to reunite us for the final chapter of his life so that he can enjoy his golden years in a dignified manner," Birkir Fjalar Viðarsson said when speaking to vísir.is about the unexpected return of his long missing cat.
Birkir blamed himself when Örvar disappeared after a new puppy was introduced into the home in the fall of 2007.  "I really mourned this cat; I blamed myself for this and wondered what would have happened had I not gotten the puppy. It took me a long time to get over this and I thought about it regularly," he said.
Birkir searched for Örvar and stayed in close contact with Kattholt, Reykjavík's cat shelter, for quite some time, hoping to find the missing cat.
"I imagined two scenarios: either he had died or somebody had taken him in—stolen him, in a way. All I could do was hope that somebody nice had stolen him."
Kattholt shelter tried unsuccessfully at first to reach Birkir, whose contact info had changed, after they read Örvar's chip, but got in touch with him via email after a couple of weeks.
Birkir said: "At first I really couldn't believe it. I did not know what to expect. So I prepared for the worst; maybe he had lost an eye or an ear. Maybe he would have to be humanely put out of his misery. When I arrived, I was told that Örvar was shy and kept to himself in the corner. But when I called out his name he came running, climbed on top of me and wrapped his body around me. It was as if we had never been apart. It was lovely. The ladies at Kattholt told me that they had never seen the cat behave that way. One of them was even moved to tears."
Örvar was found to be in good shape when he visited the vet, and Birkir has expressed his thanks to the unknown person who cared for the missing cat, saying: "Actually I would like to thank them in person. Now that Örvar's home I'm not giving him up again."
"Before bringing him home I didn't know what to expect. But he seems very happy. He just lies in his bed and enjoys life. I'm so happy to be able to take part in this final chapter of his life. We have been reunited and for that I'll always be grateful."
<via>