Two tiny kittens whose white fur was inked bright blue and green are recovering after police found them and brought them into the Bradford Cat Watch Rescue in England. The story of their ordeal and recovery, including two baths to remove the toxic ink, was documented on the BCWR Facebook page. "Here at BCWR KITTENS we often consider ourselves to be unshockable," the post by rescuer Katie Jane read. "We have dealt with most situations but this is a first."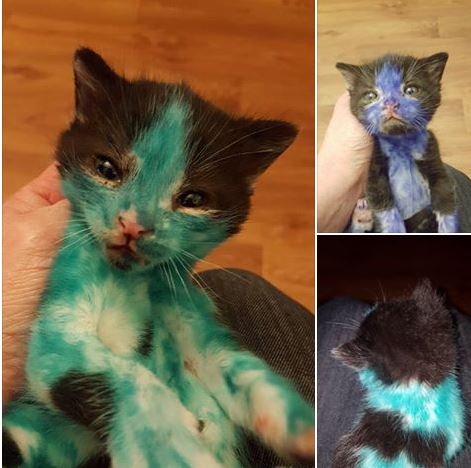 A closer inspection revealed that the pair were the victims of a person or persons who apparently used permanent markers to color their fur. "This is a dreadful act of cruelty and who knows what untelling damage this may have caused," writes Katie Jane. "We have sought veterinary advice and I have just contacted the poisons unit to ascertain what would be safe to use on them to try to remove the ink. The kitties are now going for a bath. "
The kittens, named Smurf and Shrek, were docile as they were being bathed and appeared to be relieved by the experience. "Smurf and Shrek have had another bath and a bottle of kitten milk each and are now going to settle down for a little rest." Care was taken to protect the kittens' eyes and face during the process of washing away the ink.
The response to news of the kittens' ordeal at the hands of abusers was strong and heartfelt. "Whoever did this shouldn't have been allowed pens, let alone animals," commented one woman. "Poor little souls. Wonder what happened to their mum." "How can people be so cruel???" said another.
The kittens have been bathed twice and are improving, but will need more care. The BCWR in West Yorkshire is a nonprofit rescue and adoption organization that relies on volunteers and donations. If you want to help, you can make a donation online at the BCWR Website. Here's the latest on Smurf and Shrek, who are looking much more alert and are eating well.