Guest post by Bernadette Kazmarski
The update on Bernie is that he is a strong and brave little kitty, and he's doing extremely well considering how serious his injuries looked last week. Thanks to all the donations given to Marcia's Muttley Crew in his name over the last two weeks, he was taken to the dermatology specialist at Pittsburgh Veterinary Specialty and Emergency Clinic (PVSEC).
An exam showed that his tail is necrotic, or the tissues have been damaged to the point where they can't survive, meaning his tail needs to be amputated lest the necrosis continue up his spine.
But his little face didn't suffer so badly though it looked terribly inflamed and prevented him from eating normally for nearly two weeks. His facial tissue should heal, possibly without scarring, his ear tips will probably heal as well, though he may not grow back all of his fur and whiskers. His claws are another story, and though they are growing and needed to be clipped a little bit, may have been damaged enough that they would need to be removed if any deformity in their growth is painful for him later.
The best thing is his lungs don't seem to show any damage so he shouldn't have any ongoing health issues from his injuries.
It's hard to tell how each of his injuries happened, but here is the story, from the woman who rescued him and his tortie mom, the owner of the rescue that's taken responsibility for him and the woman who is fostering him now…
An untamable tortoiseshell cat decides to ask for help
A stray female cat who'd likely been dropped off in a field gave birth to a litter of five kittens including Bernie's mother last August. Jeanne, Bernie's rescuer, and her husband owned the land and tried repeatedly to trap the mother and her kittens but one by one they disappeared leaving only the tortoiseshell cat. They continued to try to trap her but then a few months ago she disappeared as well. They live in a rural area and coyotes were nearby, and there was nothing they could do to help her.
But on the night of May 14 at about 11:00 p.m. as Jeanne was closing up the house to go to bed she heard a cat crying outside. Stepping out onto her porch she saw it was the tortoiseshell cat, who ran up to her and rubbed all over her legs, then ran off.
"I couldn't figure out what her problem was, but I thought 'Oh, she's back,' and I was going to go back inside," said Jeanne.
But the tortie cat came back in a very short time and dropped something at Jeanne's feet.
"I didn't even know what it was," Jeanne said, "it was just a little black thing and it wasn't moving."
She went to get a flashlight and looked at it. "I reached down to pick it up and it hissed at me and I realized it was a kitten! It just smelled like fire, it was just an awful smell. His little nose was all pink and I wondered if it had been burned off, and his fur was all singed."
Jeanne had no idea what had happened or where, though it couldn't have been far by how quickly the tortie cat brought the kitten to her. It was night, she was out in the dark and quiet of open farm country where you can see light and hear sounds for miles, but saw and heard nothing but a dark and quiet night. She knew that, especially in the spring, people often piled brush and burned it, and unfortunately a brush pile is often a place where wild animals—and stray and feral cats—hide themselves and their young for cover. The tortie cat had no apparent burns or anything like the kitten did. It was a mystery.
Worst of all, she had no idea if there were more kittens. The tortoiseshell mama was staying near her, skittish, but certainly not the wild kitty she had been, but Jeanne wasn't sure what to do. She couldn't bring the mama cat into the house and the kitten couldn't be without her, and she didn't want to keep the mama cat cooped up in case she had more kittens to rescue.
"I don't even know what direction she came from," Jeanne said. "My husband and I had seen her all over before she completely disappeared.
"I felt so bad for what had happened. When I was sitting outside crying and holding this little burnt kitten I asked her why she ran away," she said.
Since the kitten seemed okay, she decided to set up a little bed in the "window well", which is a depression in the ground by a house's foundation to accommodate a below-grade basement window, and the tortoiseshell mama cat hopped right in with the kitten.
Rest was nearly impossible as she checked on them all through the night.
In the morning she checked on them and, convinced there were no more kittens to be rescued, "The first thing I did was put him in a cage," she said, and—remember, this is the cat she couldn't trap, "his mom just walked right in there with him. She never left him.
"Then I started to make calls," she said. She decided they needed to see a veterinarian, but in a case like this he might need extra care. She called the local shelter, who told her they couldn't send anyone, so she took the two cats there instead. The shelter unfortunately said they were full and they had no veterinarian on staff, so she'd have to take them somewhere else, without giving her any suggestions for where to go of care for a kitten who'd been burned somehow. She left, confused and upset by their response, and concerned she still had to get the kitten some help.
Her daughter Jessie was also making calls and through a chain of phone calls got in touch with Marcia Hupp of Marcia's Muttley Crew who suggested they go to the veterinarian she used in her rescue, Dr. Bob Mihalovich at Steel Veterinary Services in Washington, PA. They could put the kitten's care on her account. Jeanne had also been to Steel Veterinary Services with her own pets.
"We didn't even call," Jeanne said, "We just ran in. I was at the counter trying to explain the whole story to the receptionist and I was so upset after what the shelter had said and just the whole thing.
"But there were two older women there who heard the whole thing, and they came up and put a $20 bill in my hand and told me I'd need it," Jeanne said. "I couldn't believe total strangers would do that."
They got in to see Dr. Bob who at first wasn't sure what to think. "Did you shave this kitten?" he asked. Jeanne told him to smell the kitten, he'd been burnt!
It looked as if the only part of him that had been literally burned was his tail, but the rest of him hadn't been in any flames but had been scorched by intense heat which singed his fur and whiskers and the sensitive tissues of his nose and mouth. But apparently he'd had his eyes closed because they weren't affected at all. Oddly, his paw pads had been singed and his claws partially melted, and some of his paw pads had just fallen off that morning when Jeanne had put him in the carrier.
Jeanne left the kitten and his mom there for treatment, and in the meantime Marcia had found someone to foster the kitten and his mother when they were ready to go home after an overnight stay.
The next phase
The veterinarian cleaned the kitten's wounds and prescribed an antibiotic, but determined he could go home with his foster, Susanne, who has, we'll say, a house full of cats and has been fostering for years. She is also a humane officer in Washington County, one of the ways she ends up with rescued animals, and she's also well-acquainted with injured animals.
And it was Marcia, in a text to Susanne, who suggested the name "Burnie" or "Bernie"!
"I remember his fur felt like felt," Susanne said. "He still smelled so bad and he wasn't nursing, probably because his face hurt so badly," she said. Dr. Bob had guessed Bernie's age as about four weeks, so she mixed some formula and just dropped it in his mouth from a bottle without touching his lips or nose. They managed that way for three or four days, but he really wasn't getting enough food.
"Then the burned areas on his face started cracking and his nose swelled shut, and he just stopped eating," she described.
"My husband took Bernie to the vet, and Dr. Bob showed him how to tube feed the little guy," Susanne explained. This involved snaking a tiny, tiny tube down Bernie's throat to his stomach. "He gave us a 6 oz. syringe that fit on the end of the tube and said to give him that amount every four hours and he should be okay."
So she and her husband fed the little guy and his mom kept him clean. The paw pads and claws didn't seem to bother him as he used the litter box. Friends and others sent suggestions and healing salves to help his burns, especially one that was a healing honey paste for burns, but Bernie got litter stuck to it and Bernie"s mom had a heck of a time cleaning it off him. As two weeks passed the swelling began to recede but his skin looked crusty, and after his mom pulled off the crusty skin, his injured areas were bright pink, and this was about where we met him last week.
.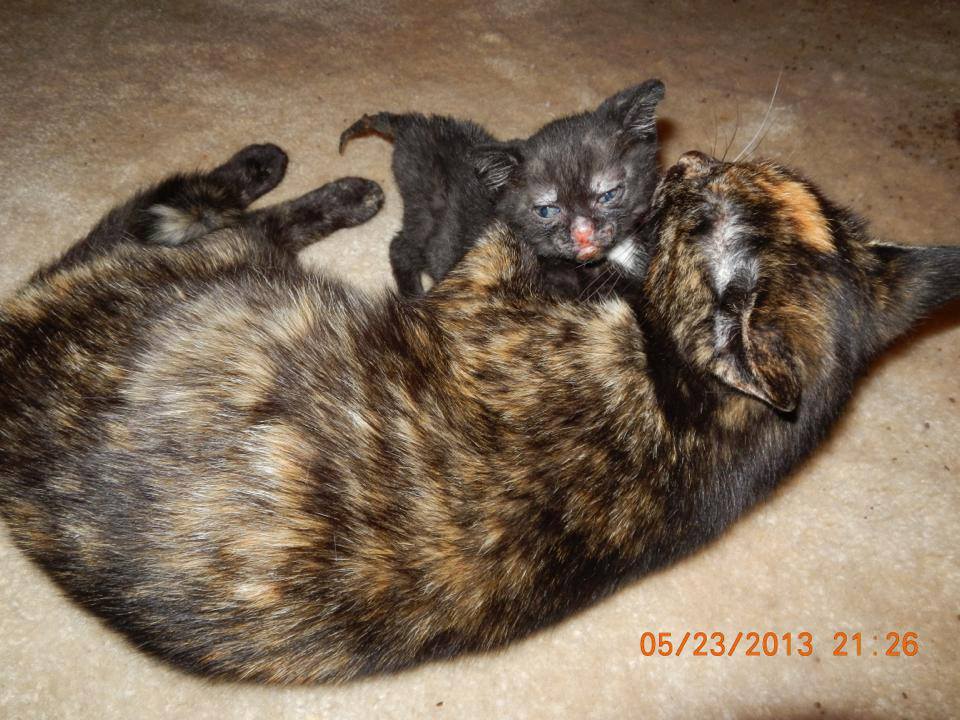 To the specialist, and forward
Bernie has the positive diagnosis from the specialist, and while he still has an antibiotic to avoid any infections in these wounds are healing without any problems, and he is thriving. A few days ago Susanne caught him trying to drink from the water bowl and trying to nurse from his mom. Susanne isn't sure he was successful in either one, but those are great signs of a normal kitten.
Susanne also had a litter of three foster kittens someone had found abandoned; two of the kittens were emaciated and didn't live, but the third is healthy and active, and he and Bernie are best buddies.
"He's playing like a normal kitten," she said, "and he comes running to greet me when I come in the room."
And that wonderful mom of his? She's still skeptical of humans, but by no means unfriendly. After being such a wild child, to turn around and literally ask someone for help and then stay with her kitten is truly remarkable.
Spay, neuter and adoption
Bernie is very nearly old enough, two months, and heavy enough, two pounds, for pediatric neutering, so Dr. Bob will wait another week for Bernie to be ready for his neuter and tail amputation to be done at the same time. That should be interesting for the little guy, to wake up with several missing parts!
His mom will be spayed and both will get their vaccinations, then they will be up for adoption. For obvious reasons both Susanne and Marcia want them to be adopted together.
Help a little more with expenses
Marcia is grateful for all the donations she received in Bernie's name last week which paid for his exam with the the dermatologist, but there are more expenses and it would be so nice to show these people who all got together to help one tiny kitten and his mom how much we appreciate what they did.
If you'd like to donate for the remainder of Bernie's care, for his mom's spay and vaccinations, or just to help Marcia's Muttley Crew, you'd be helping a lot of animals with any donation—and remember that Marcia's rescue is primarily a dog rescue, though she's taken in and found assistance for everythign from pets to farm animals to wildlife. Each time I talk to Marcia she's driving around picking up a dog or delivering food or taking someone to the vet, and it's basically all out of pocket, which is how most small rescues operate. Sometimes, it's just nice to thank a bunch of people who went out of their way for one little kitten, and you know they'd do it again in a heartbeat. If you can, please donate to Marcia's Muttley Crew's PayPal account. You can find Marcia's Muttley Crew on Facebook and their page on Petfinder.com.
##
Rescue Story: Little "Bernie" is on the Mend! was originally published at The Creative Cat, and is reprinted here with the author's permission. © 2013 Bernadette E. Kazmarski. All photos provided by Marcia Hupp and Susanne Lewis.