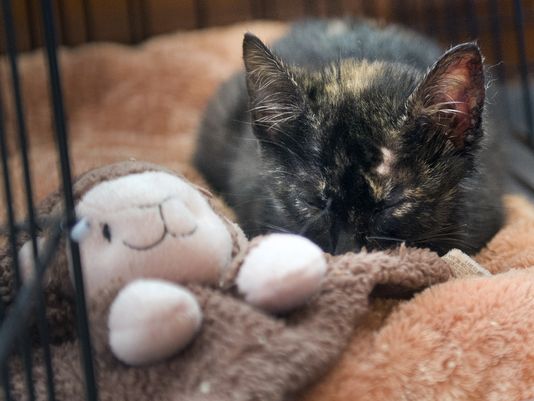 Sometimes, events in the world seem to come together to create the best possible outcome. That's just what happened in the case of this kitten's rescue.
The kitten found herself stranded along the median strip in highway Route 30. A truck driver spotted her among the busy traffic, stopped his truck, and tried to catch her. Jill White saw the rescue in process and got out to help. Together, the two were able to catch the kitten, and the man handed her to White, explaining that he had to go to work.
When White looked at the kitten she was holding, she realized the kitten was in bad shape. The kitten was shaking and panting, its pupils enlarged. White wasn't sure how long the kitten had been outside in the oppressive heat, but knew that she had to do something.
White drove the kitten to the Charles London Animal Hospital, and despite a heavily booked schedule, a vet was able to see and treat the kitten. They discovered that, while the temperature outside was hot enough for pavement to burn animals' paws, the kitten did not have any burns. She had a bump on her head and a scratch on her ear, but was in relatively good shape, considering the conditions she was rescued from.
And here's where the next bit of luck comes in: Shannan Donivan was in the waiting room at the time. Donivan, a volunteer with Feline Solutions, frequently fostered cats in her home and had brought one of her foster kittens to the vet that day. After seeing the rescue kitten, Donivan offered to foster her and give her a chance to recover at her home.
This lucky kitten was given a name – Road Rash Ashley – and went home with Donivan. Ashley is healing and recovering, and is certainly one of the luckiest kittens in the world.