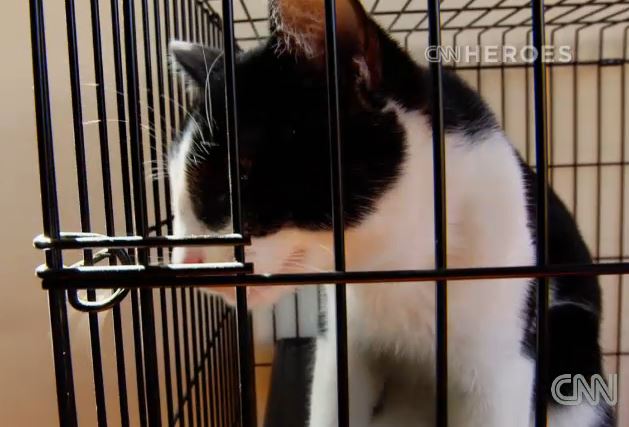 Philadelphia firefighter and Red Paw Emergency Relief Team founder Jen Leary is profiled in a CNN Heroes segment.
Ms. Leary is the former Philly firefighter and Red Cross emergency responder who created a groundbreaking local resource for families whose pets are displaced by house fires. Red Paw rescues pets in and around their burned homes and provides them with a safe place to stay while their families get back on their feet or wait to get back into their homes.  The nonprofit operates in cooperation with the regional Red Cross organization, and operates much like a Red cross for pets.
See more stories and videos featuring Red Paw at our site HERE.
The recent story, Spotty Cat Goes Home is a particularly touching one.

Former firefighter rescues pets in disasters:
Read the accompanying story at the CNN website.
#
From the Red Paw website's 'About' section:
Red Paw has been a work in progress for many years and a direct result of founder Jennifer Leary's (Philadelphia Fire Fighter and Red Cross Emergency Responder) experiences on the fire ground — time and time again, pets have been left with no organization to provide emergency assistance or care in the event of a fire.
Two specific incidents sparked Red Paw's birth. A few years ago, a two alarm fire in Center City resulted in the death of two dogs and a cat because there was not a procedure in place to help them. Responding with the Red Cross, Leary was there and saw the owners carrying the dogs in their arms screaming for help, but no one was there to help them. Leary then used her personal vehicle to rush them to Penn Veterinary Hospital (while the owners were giving them oxygen with equipment borrowed from a medic unit) where they later died.
The second incident occurred in January 2011 at a three alarm fire at an apartment complex in West Philly. Cats were being taken out of the building in laundry baskets and rushed to the shelter without crates or emergency vet care. Dozens of cats were trapped in the building for weeks afterwards.
Shortly after that fire, Leary brought her proposal for Red Paw to the American Red Cross — to work in conjunction with their responders when there are pets on scene. Eight months later Red Paw was born. In 2013 Red Paw was added to the City of Philadelphia's Emergency Response Plan. The humans have the fire department and the Red Cross to provide emergency assistance and now their pets have Red Paw!