.
Peanut was born with a deformity and was left trapped in a hole when his mother took her other kittens and left him behind. He was saved when a kindhearted woman heard his cries and is now in the care of a small rescue that is getting him help.
Peanut is in the care of Heronbank Rescue, a small cat rescue founded by John and Anne Fairless that is based in Batley, West Yorkshire, UK. Batley is located near Leeds. He came to Heronbank in October, 2014 and lives with his foster caregiver, Denise Gregor.
Anne Fairless is fundraising to come up with the money to pay for surgery, and possibly prosthetics, to straighten Peanut's front legs.  The Pounds for Peanut gofundme fundraising page has currently raised £1,300 toward the £8,000 goal. Anne and her husband have pledged £1000, and Peanut's foster petmom Denise has pledged another £1000. Anne wrote at Facebook that at total of about £5000 has been reached, leaving another £3000 to be gathered.
Peanut and his healing journey can be followed at the Pounds for Peanut Facebook page.
Here is Peanut's story, as told at the rescue's website, and his gofundme and Facebook pages:
We have a deformed kitten in rescue called Peanut.
Peanut's mother was feral. She found refuge in a disused garden shed where she gave birth in a hole in the floor. As we understand it, Peanuts mother was subsequently disturbed and she left with her other kittens … all except for Peanut. Sadly, little Peanut was left behind because he had been born with a deformity in both his front legs. This made it impossible for him to crawl out of the hole, so he was left alone to die – he was only about 3 weeks old. Fortunately for Peanut, the owner of the house heard his pitiful cry and when she investigated she witnessed poor little Peanut trying to claw at the sides of the hole with his bent-backwards legs, in an attempt to get out. The finder alerted Heronbank Cat Rescue who arranged for him to come in.
We have pledged that we will provide Peanut with the necessary treatment and care to enable him to live a productive, active and happy long life. With that in mind, we now have visited a top consultant in the field of prosthetic implants. We hope that he can offer Peanut an orthotic or surgical solution which will straighten his legs, correcting his deformity in some way which will ultimately enable him to walk, run and jump, just like any other cat or kitten. He deserves this chance – the chance of life!
The bones of his front legs are straight but his ligaments and tendons are either too short or too long so his feet 'flap' from the wrist downwards. To make things worse for Peanut his right leg rotates from the elbow downwards and he tends to walk on the upside of his foot (pads pointing upwards), the right leg bends in an 'L Shape' because of this. Peanut's legs are splinted daily and he undergoes daily physiotherapy.
But Peanut doesn't let his deformity hold him back. This little guy has the heart of a lion. He is full of spirit and a real will to live so nothing stops his thirst for exploration and his love for all that moves! This young man can jump from floors to tall beds or between chairs thanks to his splints.
Peanut went into foster care at just over 4 weeks old. He was initially introverted but with the encouragement of foster mum Denise, he was keen to explore, and craved the warmth of a cuddle, purring incessantly. Peanut is sweet in character, but has the heart of a lion. He is wilful, determined, tenacious and a comedian to boot. Nothing stops his thirst for exploration and his love of all that moves. He is a real character with heaps of spirit and such a will to live! You can almost see him smile at times! He can outrun the other 5 cats in his foster home – he beats them hands down! He also play fights and usually wins! So it is clear that Peanut is devoid of any cognitive impairments – he is alert, exceedingly active and responsive in every respect.
The veterinary surgeons have dedicated time and energy into exploring every conceivable treatment, investigative and splinting option. Unfortunately when we "fix" one issue, it tends to make another issue worse. However Peanut's left leg which was the most deformed … now is his strongest leg, albeit for occasional knuckling. Sadly Peanut's right leg remains problematic, but his mobility is positively corrected with splinting.
Pounds for Peanut made this update at Facebook today:
PEANUT UPDATE
Heronbank rescue and particularly Peanuts carer Denise Gregor are very concerned about the rapid deterioration of peanuts poorly right leg. The elbow is very swollen and Denise is in constant fear of yet another infection given the hot weather and his cumbersome bandaging and splints.
Today we have spoken to Peanuts consultant in the south of England and as a consequence Peanut has been booked in for his pre-operative assessment on Thursday, 30 April when he will have an MRI scan and be measured for his prosthetic implant and artificial paw. Surgery will then be scheduled 3 to 4 weeks thereafter.
Denise has kindly offered to give £1000 towards Peanuts surgery and John and myself have matched this. This brings the total raised so far to around £5000. We have another £3000 therefore to find!
We are looking for some really good auction prizes and raffle prizes that will help us to raise the money that he needs for this desperately needed surgery.
Donations towards the Peanut Fund can be made through PayPal using the friends and families option on [email protected]
Heronbank Resce also operates an auction page at Facebook HERE.
A selection of videos with Peanut found below shows him as he was a small kitten and as he is now.
.
.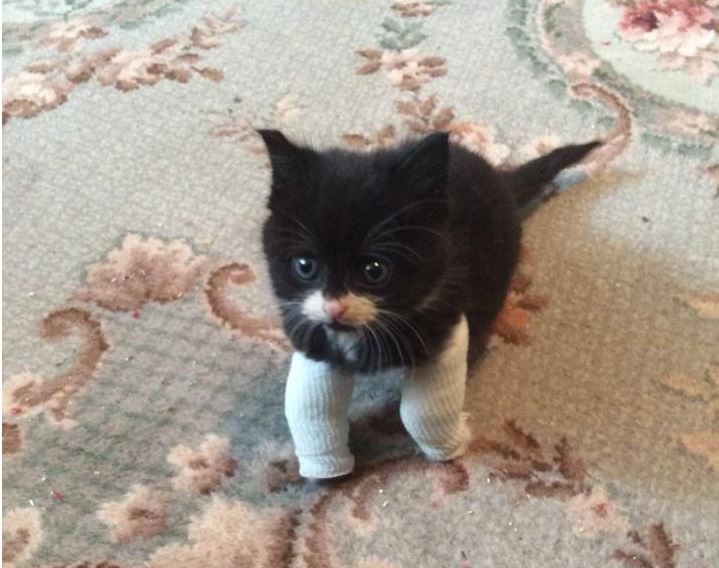 .
.
.
Peanut's first day at Heronbank Rescue:
.
.
.
.